Explore the world of

CI HUB Integrations
Built for connectivity to the best in class creative libraries and asset managers. We're releasing new integrations every week.
CI HUB's Integrations
CI HUB offers a comprehensive list of integrations with popular marketing and design tools, providing users with a unified platform for managing their digital assets and streamlining their workflow. To take advantage of these integrations, simply filter through the list on the CI HUB website to find the tools that are most relevant to your needs.
Built to empower your creativity
Our integrations empower your creativity by providing seamless integration with your favorite tools, making it easier to access and manage your digital assets. This, in turn, allows you to focus on the creative process without being weighed down by technical challenges or inefficient workflows.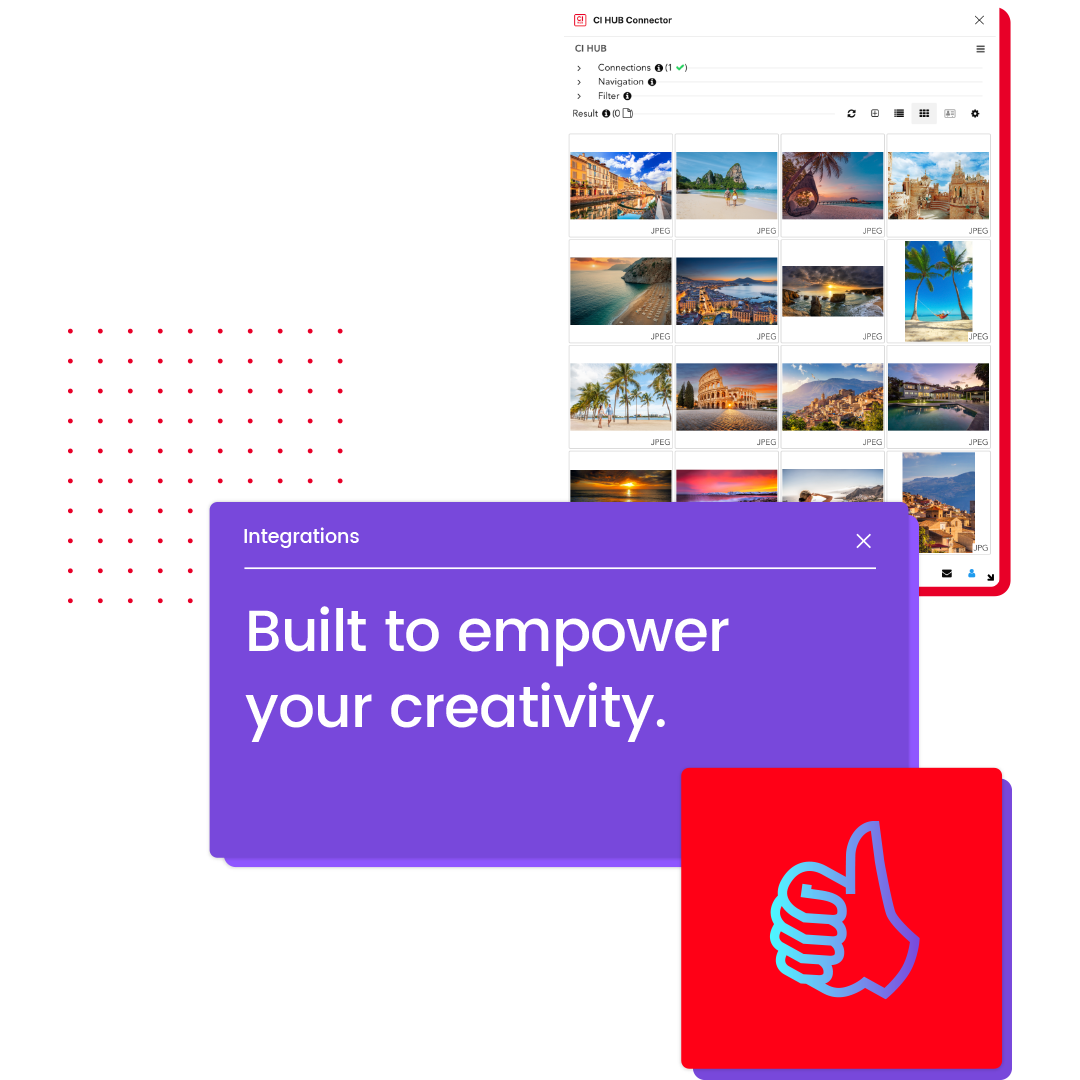 "The more difficult we make it for those end users to access this content, the more likely they are to just go find another piece of content in the internet somewhere, put into a presentation somewhere, that's likely not approved, and then you are running into some liability challenges."
ELLIOT SEDEGAH, Director, Strategy & Product Marketing at Adobe
Read
Basic
Extend
Premium
Custom
Auth2 authentication

Multiple connections

Multilingual interface

Placing options

Standard FIX Metadata

Write
Extended Search capabilities

Add new files,

Create versions

Duplicate check

Replace all

Manage
Asset Relations

Custom Dynamic Metadata

Magic

Link panel:

Task Management

Custom Functions*
Do you have questions?
We have the answers
1.
How does CI HUB simplify my digital asset management?
CI HUB simplifies digital asset management by providing a unified interface that enables easy access, management, and use of digital assets across multiple applications and platforms, streamlining workflows, enhancing productivity, and ensuring consistency in branding and messaging.
2.
What types of digital assets can I manage using CI HUB?
CI HUB supports a wide range of digital assets, including images, videos, logos, icons, documents, and other media types commonly used in the creative process.
3.
How do I set up and configure CI HUB?
Setting up and configuring CI HUB is a simple process that involves creating an account, selecting the digital asset management system you want to integrate with, and following the instructions for installation and setup.
4.
Is CI HUB secure?
Yes, CI HUB is designed with security in mind, and uses industry-standard encryption and other security measures to protect user data and ensure secure access to digital assets.
5.
Can I use CI HUB for collaboration and team workflows?
Yes, CI HUB is designed for collaboration and team workflows, enabling multiple users to access and use digital assets in a unified interface, streamlining collaboration and enhancing productivity.