Adobe MAX conference, one of the biggest and most pivotal events for creatives globally, is coming on the 26-28 of October 2021. This year's event will feature notable creative and celebrity speakers, keynotes, technology sneak peeks and presentations on all the latest tools and updates, collaborative art projects and challenges, virtual networking opportun­ities for creatives across the globe, and of course, hundreds of live and on-demand learning sessions for all skill levels.
CI HUB is proud to be one of the platinum sponsors of this year's conference and will have the opportunity to present the benefits of CI HUB Connector to everyone as the Adobe MAX 2021 will be virtual and free for all users to join.
Stay tuned for more updates and register now!
Join Us on Adobe Max 2021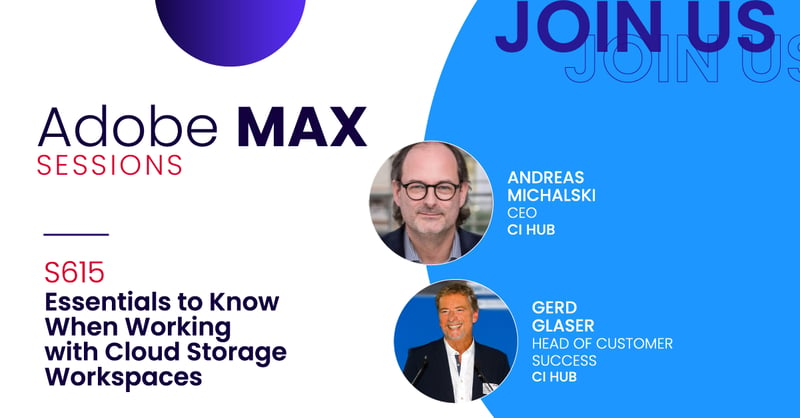 Οur session "Adobe MAX on Cloud Workspace Essentials!" is scheduled at 26th of October, 11:30pm – 0:30am (CET). Save the date and register at our event to see our founders share some wisdom on how you can ramp up your career and expedite simple processes through a simple workspace connector!
The CI HUB asset panel plugin for Adobe Creative Cloud applications connects your brand assets living within your various asset repositories to your native creative apps. Maintaining a connection to your asset libraries ensures consistent use of brand assets by all users, streamlines the creative process so that you can produce more content with greater efficiency and accuracy.
No more jumping between tools or windows to find the right asset!

Adobe Photoshop
Access to Source Systems Search incl. Stock-Provider

Versioning of Assets: instantly collect the right size or version

Link images for composing

Use Metadata via Drag&Drop

FADEL: Check image rights of use

Adobe InDesign
Access to Source Systems Search incl. Stock-Provider

Versioning of Docs AND images

Upload images from InDesignDoc to your Source system

Previewing Docs without opening them

Enhanced Link panel

Use Metadata via Drag&Drop

Merge Metadata and Image URL to a CSV-Export for DataMerge / Serial Production / Automation

FADEL – Check image rights before using them

Use HighRes/LowRes (Renditions)

Adobe Illustrator
Access to Source Systems Search incl. Stock-Provider

Versioning of Docs AND Images

Enhanced Link panel

Use Metadata via Drag&Drop

FADEL – Check image rights before using them

Use HighRes/LowRes (Renditions)

Adobe Premiere Pro
Access to Source Systems Search incl. Stock-Provider

Versioning of Projects

Upload Footage and Links from Premiere to your Source system

Enhanced Link panel with all Project relevant Elements

Use Metadata via Drag&Drop

FADEL – Check image rights before using them

Adobe After Effects
Access to Source Systems Search incl. Stock-Provider

Versioning of Projects

Upload Footage and Links from Premiere to your Source system

Import AI Files via CI HUB as Footage or Project

Enhanced Link panel with all Project/Composition relevant Elements

Use Metadata via Drag&Drop

FADEL – Check image rights before using them