CI HUB Press Release – Adobe MAX
CI HUB, the leading digital asset aggregator, has just rolled out to Google Workspace, marking its trifecta suite of Adobe, Microsoft and Google integrations.
Designed to accelerate creative workflow, the CI HUB Connector is a plug-in across the applications we use on a day to day basis: Adobe® Photoshop®, InDesign®, Microsoft Excel, PowerPoint, and now the Google Workspace applications.
It not only brings all your assets stored in various DAM, PIM, MAM and Cloud Storage systems – Dropbox, Celum and Pimcore just to name a few – it even automates assets rights checks and enables instant pivoting between versions, sizes and even applications.
Alongside a plethora of new vendors in the DAM, PIM and MAM Space, CI HUB is also partnering with Gelato, the global on-demand printing platform, so customers can rely on CI HUB not just as the digital aggregator, but as the go-to end-to-end solution for seamless asset creation, from inception to final print.
Andy Michalski, CEO of CI HUB, said "we couldn't be more proud of what we've achieved in the 2 years since our inception. Together with our beloved clients and partners, we've built a robust connector to find and orchestrate assets across any platform. No more searching across various windows, systems and platforms to find the image or item you need; simply connect from within the application you're using and away you go!"
For attendees of the CI HUB workshop at Adobe MAX there is a contest to win an iPad Pro and Apple Watch, see details here.
About Adobe MAX
Adobe MAX (October 26-28, 2021) is a free, virtual, and global creativity conference designed to refuel creative passions, inspire, educate, entertain, and foster relationships across the global creative community. Featuring more than 400 sessions, keynotes, technology sneaks and workshops from creative luminaries, inspiring celebrities, musicians and like-minded peers, Adobe MAX offers endless opportunities for seasoned creative pros, students, and hobbyists to take their creative skills to the next level. Notable speakers and presenters featured throughout the conference this year include Chloe Zhao, Kenan Thompson, Henry Golding, Tilda Swinton, Bryan Cranston, Aaron Paul, Casey Neistat, Young Thug and Imagine Dragons, among others.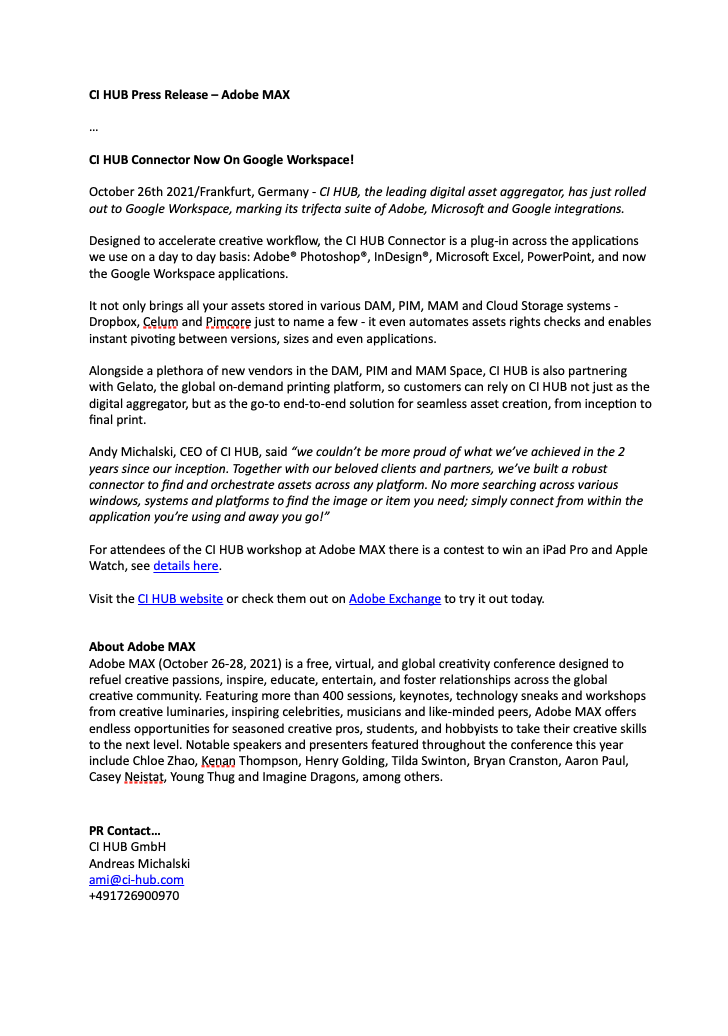 CI HUB on Google Workspace Press Release