Adobe Express
with
CI HUB Connector
Stay on brand with our the brand new plugin. Download the CI HUB Connector inside Adobe Express
Adobe Express and CI HUB Connector combine = rapid content creation, on brand!
The fast paced world of content creation just added a new super tool, in Adobe Express. Easily create social graphics, short videos, and web pages that make you stand out on social and beyond.

The challenge when you are moving fast is to stay on brand, with the CI HUB Connector plugin for Adobe Express, this is not a problem.

place assets (images and videos) from the panel into your express project

upload your project in different renditions to your connected content integrations. The following renditions are available:

the active page as png, jpeg or pdf or, if it's a video project, as mp4

the whole document as pdf
Of course all the in-panel features like browsing assets via search or folder navigation are available, too.



What is Adobe Express?
Adobe Express, an app which builds on all the capabilities of Adobe Spark and Adobe's three decades of ground-breaking technology. It marks the beginning of a new chapter that will allow even more people to tell their stories..

This is the brand new application from Adobe to compete with the likes of Canva on rapid content creation.
Learn more
Find out how you can integrate the
CI HUB Connector into your Adobe Express
workflow
Adobe Express Integration
Access the CI HUB Connector in Express by creating an account > Opening up a Canvas > clicking on the Add On section > Search for CI HUB and follow the instructions to start your trial.
With the CI HUB Connector, you can streamline your workflow in Adobe Express with instant connection to 60+ leading systems and 17 popular content-creating applications.
With our simple, yet powerful plug-in, instantly make Adobe Express a powerhouse design tool. Connect DAM, MAM, PIM, cloud storage, and stock providers quickly and seamlessly. Make flashy and unique graphics with Adobe Express and make sure you are using brand approved images and logos while you are doing it.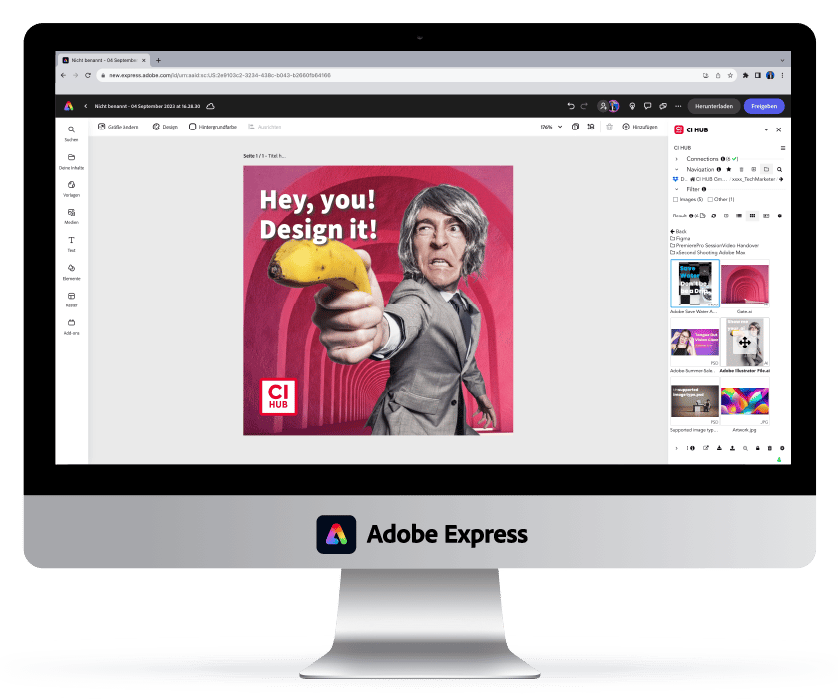 What are the benefits of the CI HUB
Connector?
Browsing made easy
The CI HUB Connector enables you to access any supported work management system or browse DAM, MAM, PIM, cloud storage, and stock providers — all within Adobe Express. This way, you have instant access to all your creative content and assets so you can get started on your work right away.
Premium functionality
The Connector supports an endless variety of asset types, such as images, videos, graphics, layout files, and metatexts. So, no matter where your assets are sourced, our extension helps you find and link footage, browse for similar images, use the search function, track digital rights, and more.
In addition to Adobe Express, the CI HUB
Connector is also available for the
following applications:
What is the CI HUB Connector?
CI HUB simplifies workflows in marketing, sales, and documentation. But what make our Connector unique? The CI HUB Connector facilitates direct access to digital assets within 17 applications.
Although it is only a simple add-in, it is tremendously beneficial for increased productivity. The automated transfer of data to and from systems within the app allows you to focus on important tasks and create better content with improved accuracy.
CI HUB connects your preferred application to any supported digital asset management system, work management system, or cloud service of your choice. With the Connector, you can stay in sync with your asset database and access projects and documents from anywhere. Likewise, you can easily make your content available for company-wide use by saving it to any source system.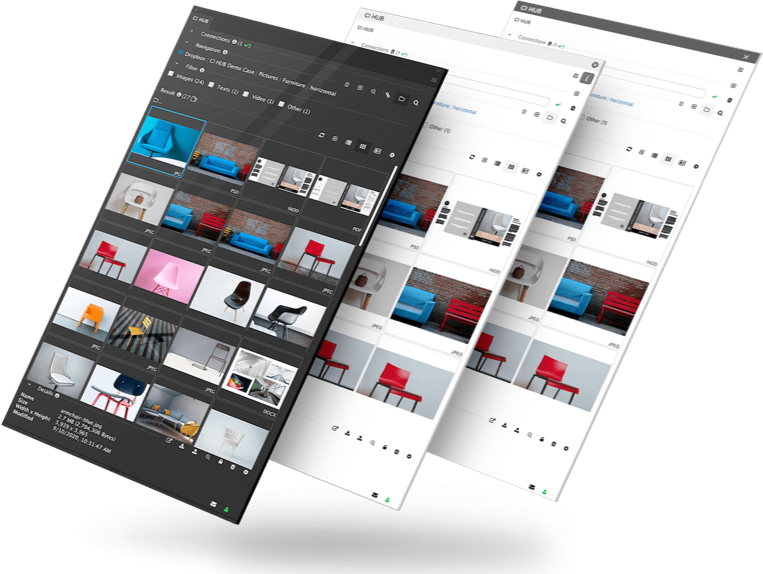 1.
Realize your full potential.
Does having just one access to your digital asset ecosystem seem impossible? Don't worry, at CI HUB, we made it possible!
2.
Interconnectivity at its finest.
We created a simple solution that only requires one plugin for multiple connections: it is an easy-to-use platform and a way for you to access all your favorite content and work projects in one place.
3.
Let your work flow.
Our affordable tool enables you to establish a better return on investment, which promotes efficiency and encourages you to stay on track. With it, you can focus on what matters most – creating great content.