It comes together what belongs together
Founded in Amsterdam/Netherlands in 2013 Bynder, a leading provider of Digital Asset management systems, has now conquered the world with its innovative platform – more than 1 million users across 1,800 organisations use the software to create, share and organize the full lifecycle of their digital content in the cloud. The development of the company and their product has led to a variety of commendations by consultancies and analysts – e.g. the 2015 Deloitte Fast 50 Rising Star Award. "We are always on the lookout for fast growing potential partners to augment our platform and deliver on our ultimate goal: to make the lives of our customers as easy, convenient and efficient as possible. This is why Bynder is a perfect fit for our platform", says Andreas Michalski about the new partnership.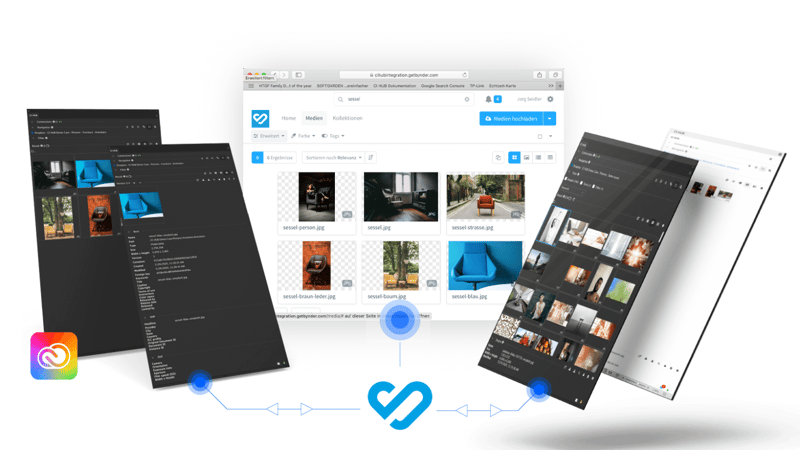 With this new integration into the CI HUB Connector for Adobe Creatve Cloud and Microsoft Office, Bynder clients can now benefit from extensive advantages: Next to seamless and streamlined marketing and creative processes and workflows for accessing, editing and producing CI-consistent content, users can now experience how it feels to work in a fully integrated and distributed work environment. "Creatives in companies, agencies and even freelancers love these benefits. As a result, they have more time for their work and thus, can develop better and more meaningful content for products and services", adds Andreas Michalski.
This new experience is based on the ingenious CI HUB features such as Similarity Search, Re-Link and Drag & Drop which create integrated, easy and efficient working environments. And best of all: CI HUB users can access all their content in the Bynder DAM without having to leave their preferred Adobe or Microsoft ecosystems or tools – e.g. Microsoft PowerPoint and Word or Adobe CreativeCloud applications such as InDesign, Photoshop, Illustrator, InCopyor Premiere Pro.
Brad Kofoed, senior vice president of global alliances and channels at Bynder, comments about the partnership: " The CI HUB platform integration provides our clients seamless access and editing capabilities for their assets stored and managed in the Bynder platform, enabling brands to better scale content capabilities across a singular content hub. We are looking forward to a great future together with CI HUB.
Find out more about the Bynder integration into the CI HUB Connector for Adobe CC and Microsoft Office here: https://ci-hub.com/adapter/bynder-connector-for-adobe-and-microsoft/
About Bynder
Bynder is the global leader in digital asset management (DAM), providing the most powerful and scalable SaaS solution for brand management. Recognized for its intuitive user experience, Bynder helps more than 1,000,000 users across over 1,800 organizations, including Spotify, Puma and Icelandair, to create, share and organize the full lifecycle of their digital content in the cloud. Founded in 2013, Bynder has since grown to over 350 employees in seven offices around the globe, including the Netherlands, USA, Spain, UK and UAE. The company is backed by Insight Partners. For more information, visit www.bynder.com.
CI HUB Connector for Adobe CC and Microsoft Office
The philosophy behind CI HUB Connector for Adobe Creative Cloud and Microsoft Office is to connect you with data domains throughout your marketing ecosystems. The CI HUB Connector is an In-app single source of access to your brands' digital assets. Simple, fast and without additional cost. Our portfolio of data domain partners covers both on-premise and cloud-hosted solutions with data models for DAM, MAM, PIM, MDM or CMS. In addition to marketing data solutions we also connect to stock providers and cloud storage services. Together with our system vendors, CI HUB creates the best possible connection, and we are always motivated by our customers to deliver seamless access to data domains in their marketing ecosystems – e.g. Adobe Photoshop, Adobe InDesign, Adobe InCopy, Adobe Illustrator or Adobe Premiere Pro. And soon in Microsoft Power Point, Word and Excel.