More
Power

to the Point. PRO.

The CI HUB Connector PRO for Microsoft PowerPoint – Creating, managing, and updating PowerPoint
presentations has never been easier.
Only available for Microsoft Windows!
Integrating the CI HUB Connector PRO for Microsoft PowerPoint into your favorite applications is so simple!
Our CI HUB Connector PRO for Microsoft PowerPoint Integration allows you to access presentations and templates within your favorite tools, making it easy for you to simultaneously manage multiple projects.

At CI HUB, we know how much being interrupted or distracted while creating content or designs negatively impacts the creative train of thought. That is why we integrated our Connector into Microsoft PowerPoint. Now you can stay in your creative workflow without distractions or periodic window hopping.

What is PowerPoint?
Microsoft PowerPoint, sometimes abbreviated as PP or PPT, is a slideshow presentation program that belongs to the Microsoft 365 Suite, but can also be purchased separately.

The program comes with all the features you need to create eye-catching presentations. You can either modify a template or manually create a new one.

With PowerPoint, you can add text, insert and edit images or videos, add music and animations to your presentation, and much more. The built-in toolset comes in handy for simple tasks such as outlining, drawing, or creating charts; all of which provide a unique opportunity to express your creativity in a slideshow.
Learn more
Find out how you can integrate the
CI HUB Connector PRO into your PowerPoint
workflow
Benefits of the CI HUB Connector PRO for Microsoft PowerPoint
Browse out-of-the-box in 60+ leading DAM, PIM, Cloud Storage, Stock Provider, and Work-Management systems.
Import Slides and Slide Layouts into your presentation.
Apply Themes to your presentation.
Merge and replace functions for Slide Master.
Merge and replace functions for Handouts and Notes.
Drag & Drop Images and Metadata into your slide or templates.
Use the rendition feature to place Adobe Photoshop or Adobe Illustrator files.
Use Low Res Images to optimize the file size of your presentation.
Save your PowerPoint file into your connected DAM, PIM or Cloud Storage System - right as you edit it - without manual upload.
Create versions of your document while editing - no boring and time-consuming check-in.
Place text from metadata via Drag & Drop.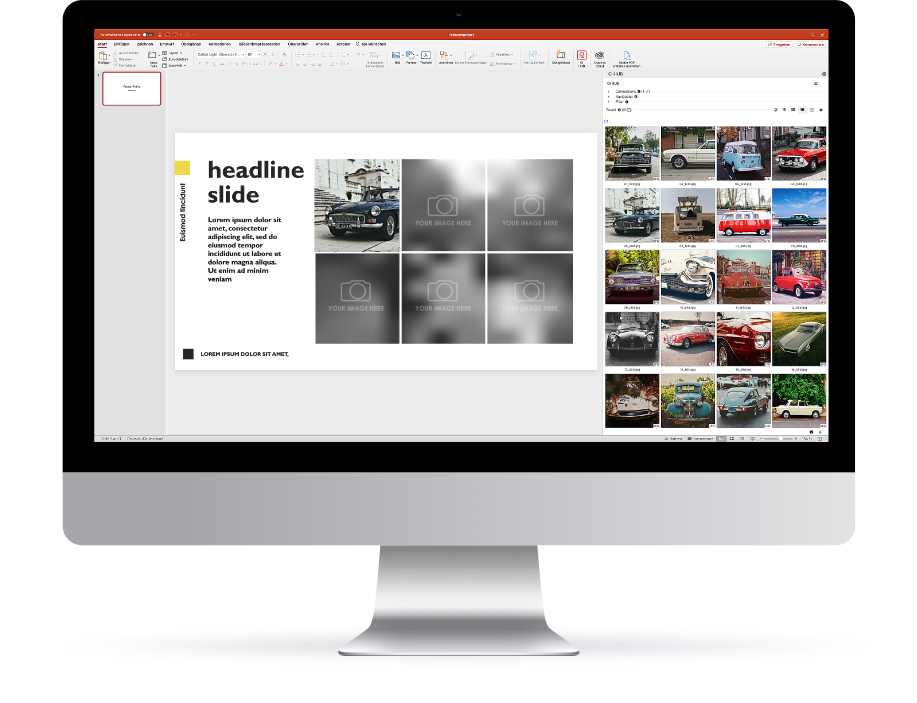 What are the benefits of the CI HUB
Connector?
Rendition feature
This feature allows you to insert original Adobe Photoshop or Adobe Illustrator files into your PowerPoint presentation, thereby simplifying the editing process. If you need to adjust the file size, you can convert images to low resolution, which will optimize the loading time of your presentation.
Great teamwork
Our Connector enables you to link teams together by granting them access to presentation files in any supported tool of their choice. This prevents the necessity for companies to store large amounts of content on different systems and ensures that content production continues on the fly.
In addition to Microsoft PowerPoint PRO, the
CI HUB Connector is also available
for the following applications:
What is the CI HUB Connector?
CI HUB simplifies workflows in marketing, sales, and documentation. But what make our Connector unique? The CI HUB Connector facilitates direct access to digital assets within 17 applications.
Although it is only a simple add-in, it is tremendously beneficial for increased productivity. The automated transfer of data to and from systems within the app allows you to focus on important tasks and create better content with improved accuracy.
CI HUB connects your preferred application to any supported digital asset management system, work management system, or cloud service of your choice. With the Connector, you can stay in sync with your asset database and access projects and documents from anywhere. Likewise, you can easily make your content available for company-wide use by saving it to any source system.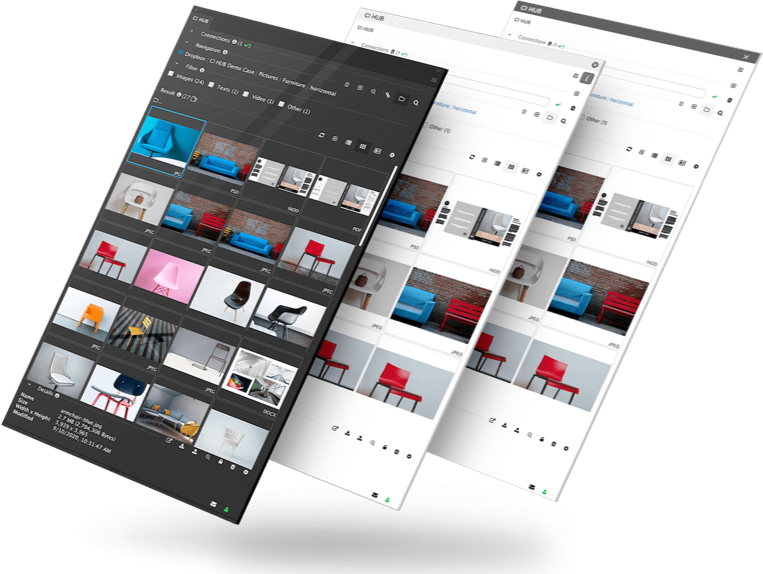 1.
Realize your full potential.
Does having just one access to your digital asset ecosystem seem impossible? Don't worry, at CI HUB, we made it possible!
2.
Interconnectivity at its finest.
We created a simple solution that only requires one plugin for multiple connections: it is an easy-to-use platform and a way for you to access all your favorite content and work projects in one place.
3.
Let your work flow.
Our affordable tool enables you to establish a better return on investment, which promotes efficiency and encourages you to stay on track. With it, you can focus on what matters most – creating great content.