First Word. Then

Sketch.

Ready is your brand asset.

Unleash your creativity with one simple, dynamic integration platform.
Integrating the CI HUB Connector into your Sketch workflow is a simple solution with significant benefits!
The development process requires resources. To build a user interface from the ground up, you will need inspiration, content, and other assets. With the integration of the CI HUB Connector, you can use the CI HUB Check Panel to search for, view the rights to, and implement the assets you want to use - without leaving Sketch.
At CI HUB, we understand the importance of being able to create incredible user interfaces. The Connector seamlessly integrates into Sketch and offers instant connection to 60+ leading systems and 17 popular content-creating applications. That is why we decided to integrate our Connector into Sketch, so you have access to all of your assets and content in one centralized data repository.


What is Sketch?
Sketch is a vector graphics editing application designed specifically for the macOS operating system. The online program enables designers to remotely collaborate on a project in real-time. UI designs can then be inspected by developers and handed off for the actual development.

Sketch comes with a broad set of tools and functions so that you can produce a premium UI in a timely manner. It offers tools and features for everything from the initial prototyping of a design to the final inspection and handoff. Although the program is made to run on macOS, handoff to developers does not require a specific operating system.

With Sketch, you can build prototypes, create design systems and workspaces, collaborate in sync, and invite developers to review the design before a final hassle-free handoff.
Learn more
Find out how you can integrate the
CI HUB Connector into your Sketch
workflow
Sketch Integration
With the CI HUB Connector, you can streamline your workflow in Sketch with instant access to work management systems, 3rd party systems, and stock providers.
With our simple plug-in, everyone in your team can access files in Sketch, making it easy to edit in different applications and track changes. It also allows you to comment, chat, and collaborate with others - no matter where they are. The CI HUB Check Panel is your gateway to DAM, MAM, PIM, cloud storage, and stock providers. With a simple full-text search or filter, you can easily find, view the rights to, and insert the assets stored in 3rd party systems into your Sketch project.
Following a user-friendly installation, this tailored plug-in provides immediate access to an extensive array of connected systems that can both simplify and accelerate your workflow!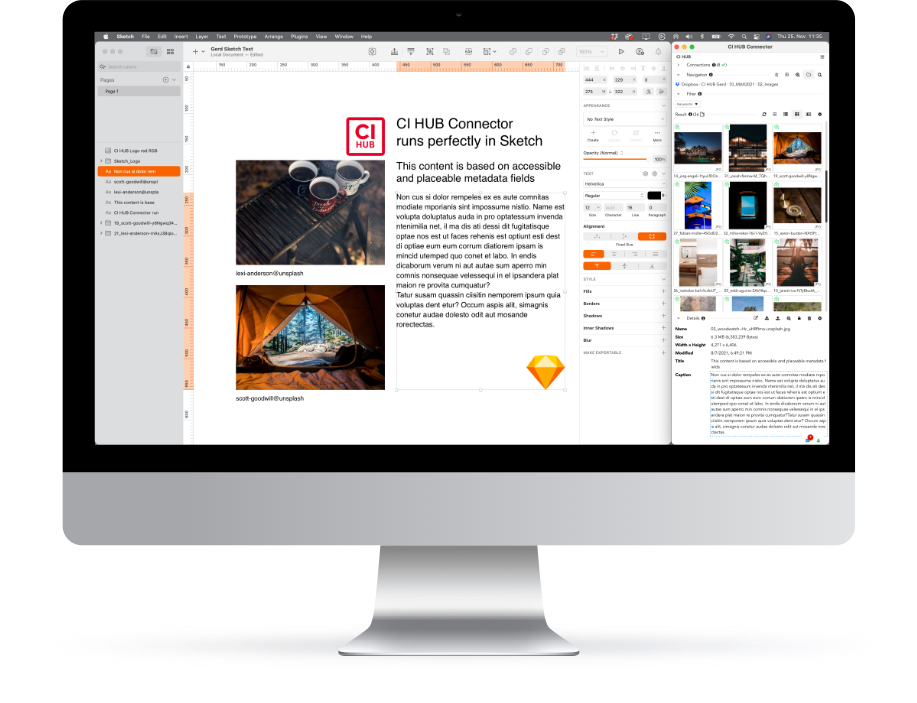 What are the benefits of the CI HUB
Connector?
Browsing made easy
The CI HUB Connector enables you to access any supported work management system or browse DAM, MAM, PIM, cloud storage, and stock providers — all within Sketch. This way, you have instant access to all your creative content and assets so you can get started on your work right away.
In addition to Sketch, the CI HUB
Connector is also available for the
following applications:
What is the CI HUB Connector?
CI HUB simplifies workflows in marketing, sales, and documentation. But what make our Connector unique? The CI HUB Connector facilitates direct access to digital assets within 17 applications.
Although it is only a simple add-in, it is tremendously beneficial for increased productivity. The automated transfer of data to and from systems within the app allows you to focus on important tasks and create better content with improved accuracy.
CI HUB connects your preferred application to any supported digital asset management system, work management system, or cloud service of your choice. With the Connector, you can stay in sync with your asset database and access projects and documents from anywhere. Likewise, you can easily make your content available for company-wide use by saving it to any source system.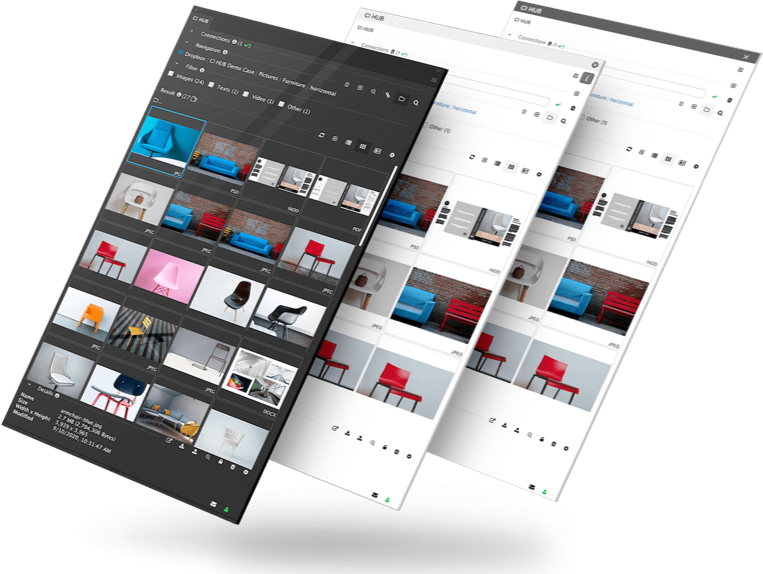 1.
Realize your full potential.
Does having just one access to your digital asset ecosystem seem impossible? Don't worry, at CI HUB, we made it possible!
2.
Interconnectivity at its finest.
We created a simple solution that only requires one plugin for multiple connections: it is an easy-to-use platform and a way for you to access all your favorite content and work projects in one place.
3.
Let your work flow.
Our affordable tool enables you to establish a better return on investment, which promotes efficiency and encourages you to stay on track. With it, you can focus on what matters most – creating great content.