Word

now you have
all your docs in one place.

Unleash your creativity with one simple, dynamic integration platform.
Boost productivity and organize your workflow in Word with the CI HUB Connector!
This simple solution not only allows you to effortlessly view your Word documents and files or connect your tools, but also eliminates unnecessary time loss. Our integration securely links your applications and data repositories to 60+ leading systems and makes them easily accessible within Word.
At CI HUB, we understand the importance of content creating tools that make your life easier by managing your content and various projects. Therefore, we decided to integrate our Connector into Microsoft Word, so you have access to all of your documents in one place.
What is Word?
Word is a widely used word processing software developed by Microsoft. It is part of the Microsoft 365 software package, but can also be bought separately.

Word is a great writing tool for everyone that can be used to create and format high-quality documents such as reports, manuals, letters, etc. With it, you can also create different types of texts with a diverse range of formats. These documents can either be saved on your device or in the Cloud.
Learn more
Find out how you can integrate the
CI HUB Connector into your Word
workflow
Word Integration
Integrating the CI HUB Connector into Word is a simple yet impactful decision that saves significant amounts of time, prevents clutter in your storage systems, and increases the ROI of your content and connected tools.
The Word Integration allows you to link Microsoft Word to 60+ leading systems. This helps increase efficiency and make it possible to spend more time creating great content.
With our add-in, everyone in your team can access files in Word, making it easy to edit documents in different applications while tracking all the changes. It also enables you to comment, chat, and collaborate with others - no matter where they are located. This plug-in offers an excellent opportunity for great content writing and effortless collaboration.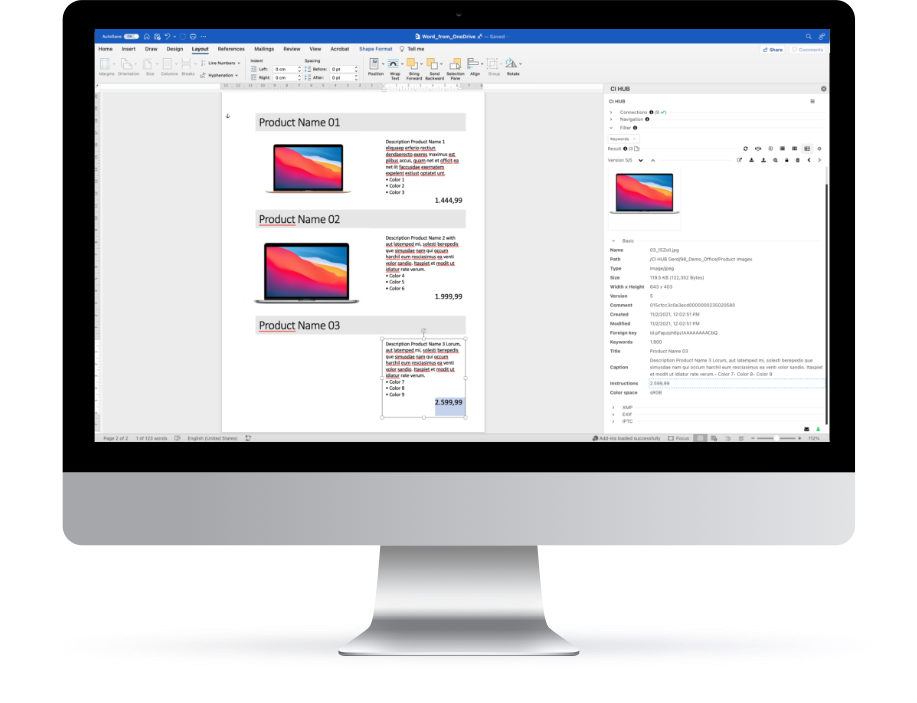 What are the benefits of the CI HUB
Connector?
Easy browsing
With the CI HUB Connector, you can browse your preferred DAM, MAM, PIM, cloud storage, stock provider, or any supported work management system within Word. It allows you to directly open and edit your documents from any connected source within any supported application. Pulling content has never been easier!
Drag & Drop
This feature can be used to insert text from metadata or images into a document or preset frames. Need a smaller file size? Use low resolution images to optimize the size of your document. With the Rendition feature, you can also insert original Adobe Photoshop or Adobe Illustrator files.
In addition to Microsoft Word, the CI HUB
Connector is also available for the
following applications:
What is the CI HUB Connector?
CI HUB simplifies workflows in marketing, sales, and documentation. But what make our Connector unique? The CI HUB Connector facilitates direct access to digital assets within 17 applications.
Although it is only a simple add-in, it is tremendously beneficial for increased productivity. The automated transfer of data to and from systems within the app allows you to focus on important tasks and create better content with improved accuracy.
CI HUB connects your preferred application to any supported digital asset management system, work management system, or cloud service of your choice. With the Connector, you can stay in sync with your asset database and access projects and documents from anywhere. Likewise, you can easily make your content available for company-wide use by saving it to any source system.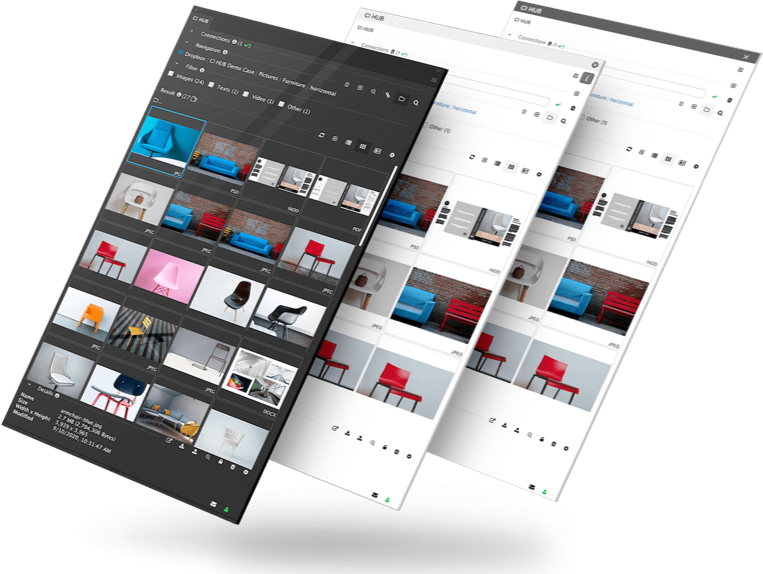 1.
Realize your full potential.
Does having just one access to your digital asset ecosystem seem impossible? Don't worry, at CI HUB, we made it possible!
2.
Interconnectivity at its finest.
We created a simple solution that only requires one plugin for multiple connections: it is an easy-to-use platform and a way for you to access all your favorite content and work projects in one place.
3.
Let your work flow.
Our affordable tool enables you to establish a better return on investment, which promotes efficiency and encourages you to stay on track. With it, you can focus on what matters most – creating great content.