Excel

your workload,
save time and money.

Unleash your creativity with one simple, dynamic integration platform.
Integrating the CI HUB Connector into Microsoft Excel is the next step toward excelling the productivity and organization of both you and your company!
The Connector allows you to access your workbooks and templates within your favorite tools, making it easy for you to manage multiple projects at the same time. Furthermore, our user-friendly add-in also provides multiple in-app collaboration features and connectivity to DAM, MAM, PIM, and cloud storage systems.

At CI HUB, we understand that a company's ability to operate on a day-to-day basis requires laborious yet critical tasks, such as data entry, which must be thoroughly and accurately executed. Sometimes, this can become challenging when data is stored in external locations. That is why we integrated the CI HUB Connector into Microsoft Excel. Now you can stay in your workflow without distractions or constant window hopping!


What is Excel?
Microsoft Excel is a spreadsheet program that belongs to the Microsoft 365 Suite, but can also be purchased separately.

The program comes with all the tools, organizational features, and broad range of functions and formulas that you need to create a great worksheet. These include calculation and computation capabilities, graphing tools, pivot tables, and a macro programming language called Visual Basic for Applications.

With Excel, you can organize, visualize, and enter data. The built-in formulas and functions are also useful for saving time on data calculations. Furthermore, Excel includes collaboration features to make sure you and your team can easily stay on the same page.
Learn more
Find out how you can integrate the
CI HUB Connector into your Excel
workflow
Excel Integration
At CI HUB, we created a simple integration with an easy-to-use interface so that you can streamline your workflow in Microsoft Excel.
With the CI HUB Connector, you can instantly connect Excel to 60+ leading systems and several content-creating applications. This supports you in becoming more efficient and frees up more time to focus on what is important. Whether you want to track your personal finances, business inventory, or anything else, we can help manage the data with our Connector and make all your resources readily available within the application.
The add-in allows everyone in your team to access Excel files from within any supported application. That way, both you and your team can easily work on a presentation together while using different tools. This makes it easy to streamline workflows, improve productivity, and enhance the creative process.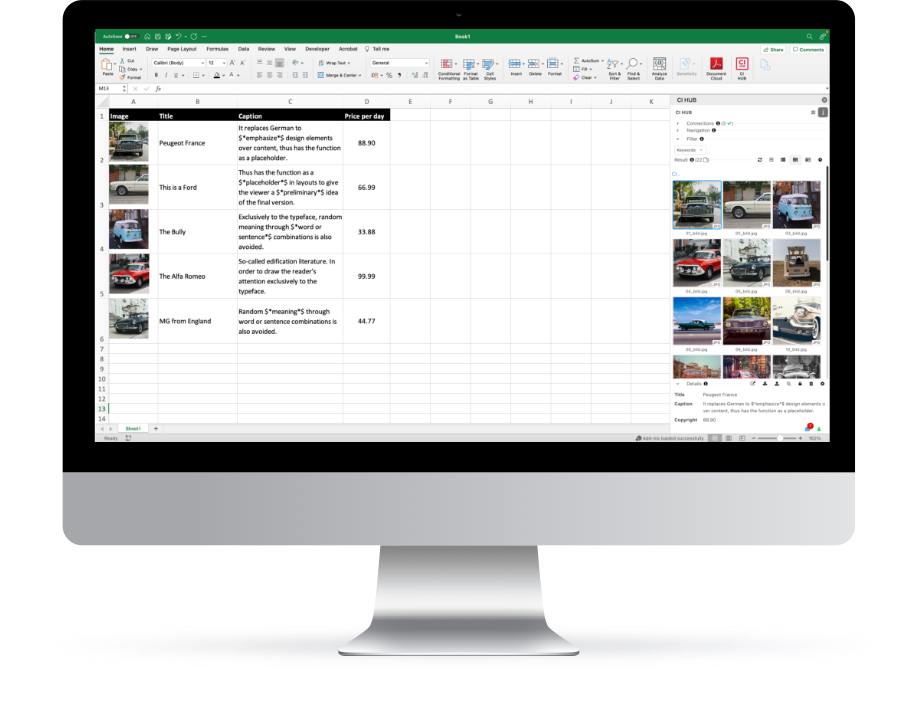 What are the benefits of the CI HUB
Connector?
In addition to Microsoft Excel, the CI HUB
Connector is also available for the
following applications:
What is the CI HUB Connector?
CI HUB simplifies workflows in marketing, sales, and documentation. But what make our Connector unique? The CI HUB Connector facilitates direct access to digital assets within 17 applications.
Although it is only a simple add-in, it is tremendously beneficial for increased productivity. The automated transfer of data to and from systems within the app allows you to focus on important tasks and create better content with improved accuracy.
CI HUB connects your preferred application to any supported digital asset management system, work management system, or cloud service of your choice. With the Connector, you can stay in sync with your asset database and access projects and documents from anywhere. Likewise, you can easily make your content available for company-wide use by saving it to any source system.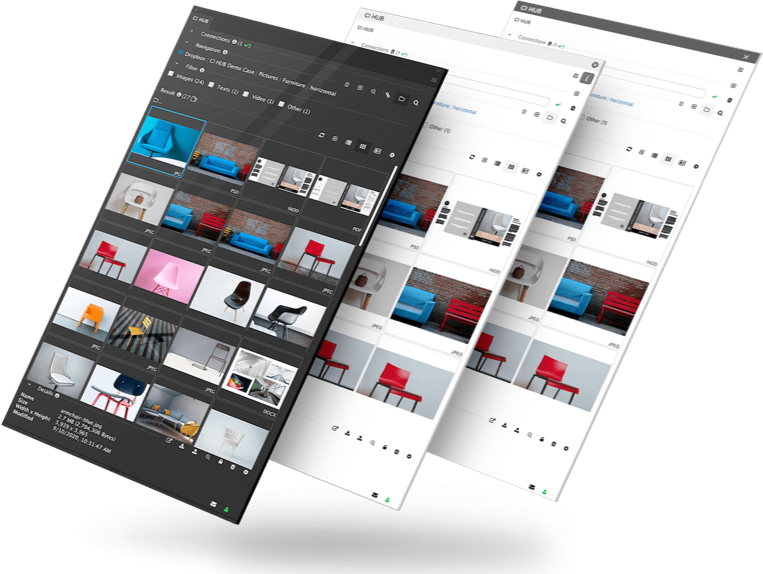 1.
Realize your full potential.
Does having just one access to your digital asset ecosystem seem impossible? Don't worry, at CI HUB, we made it possible!
2.
Interconnectivity at its finest.
We created a simple solution that only requires one plugin for multiple connections: it is an easy-to-use platform and a way for you to access all your favorite content and work projects in one place.
3.
Let your work flow.
Our affordable tool enables you to establish a better return on investment, which promotes efficiency and encourages you to stay on track. With it, you can focus on what matters most – creating great content.