CI HUB Connector

for Google Slides.

Unleash your creativity with one simple, dynamic integration platform.
Integrating the CI HUB Connector into your Google Slides workflow is a breeze!
The Google Slides Integration offers a quick way for you to access your presentations and templates within your preferred applications. This way, you can both manage and work on different projects at the same time.

At CI HUB, we know how crucial it is to stay focused on your work, especially when it comes to creating new content designs. So we decided to integrate our Connector into Google Slides. Now you can stay in your creative workflow without distractions.


What is Google Slides?
Google Slides is a web-based presentation program, that is part of the Google Workplace suite.

Whether you want to create your own design or use a preconfigured template, the design choices are completely up to you. Google Slides' versatility can be used to create, edit, and present professional slideshows, or simply for personal use.

The program allows you to add text, insert and edit images or videos, add sounds or animation, and more to your slideshow, making it a useful tool to visually represent your ideas.
Learn more
Discover how you can integrate the
CI HUB Connector into your Google Slides
workflow
Google Slides Integration
Integrating our Connector into Google Slides provides instant in-app access to content and assets from 60+ leading systems. The Connector has a user-friendly interface that seamlessly integrates into the program.
Our add-on makes all of your content available from one access point, no matter where it is located. With the Connector, you do not even need to leave the application, you can enjoy a simplified workflow with all the resources you need at your fingertips. This not only saves time and simplifies processes, but ultimately supports you in becoming more efficient at work.
The add-on allows users to collaborate on presentations in real time, accessing them from within their preferred connected application on any device! Following a user-friendly installation, this tailored add-on provides instant access to an extensive array of connected systems that can both simplify and accelerate your work!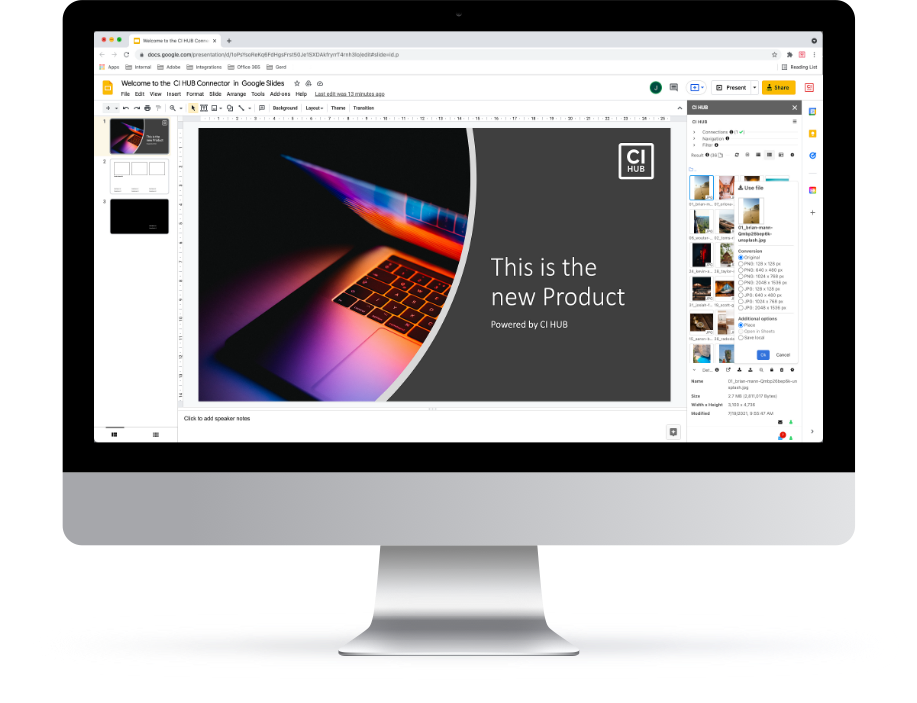 What are the benefits of the CI HUB
Connector?
Teamwork makes dream work
The CI HUB Connector is built for teamwork, which means that you can easily share your Google Slides presentations with others and collaborate in real time, even if they don't have a Google account. This allows companies to store large amounts of data in one repository and ensures that new material can be produced on time.
Everything in one place
With the Google Slides Integration, you don't have to worry about creating and managing separate files for each presentation anymore. Simply use the add-on to browse any supported work management system, DAM, MAM, PIM, cloud storage system, or stock provider. This keeps everything in one place, so it's super easy to find what you're looking for and keep track of changes.
In addition to Google Slides, the CI HUB
Connector is also available for the
following applications:
What is the CI HUB Connector?
CI HUB simplifies workflows in marketing, sales, and documentation. But what make our Connector unique? The CI HUB Connector facilitates direct access to digital assets within 17 applications.
Although it is only a simple add-in, it is tremendously beneficial for increased productivity. The automated transfer of data to and from systems within the app allows you to focus on important tasks and create better content with improved accuracy.
CI HUB connects your preferred application to any supported digital asset management system, work management system, or cloud service of your choice. With the Connector, you can stay in sync with your asset database and access projects and documents from anywhere. Likewise, you can easily make your content available for company-wide use by saving it to any source system.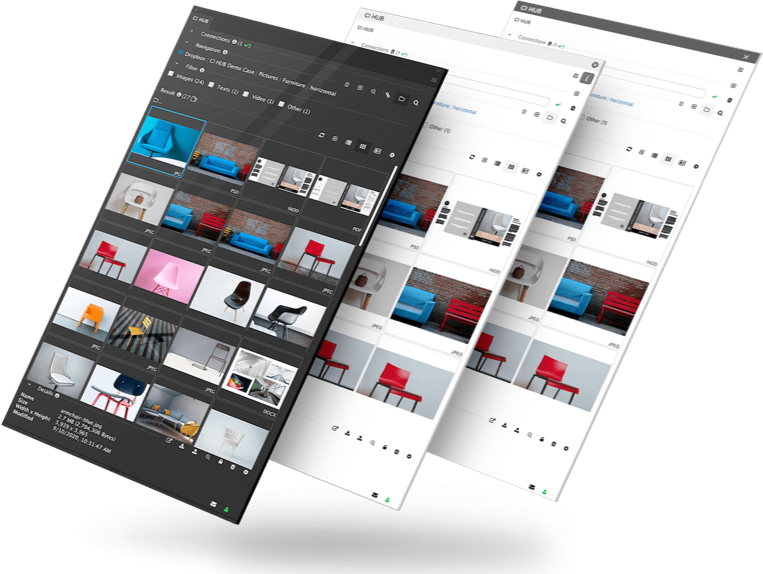 1.
Realize your full potential.
Does having just one access to your digital asset ecosystem seem impossible? Don't worry, at CI HUB, we made it possible!
2.
Interconnectivity at its finest.
We created a simple solution that only requires one plugin for multiple connections: it is an easy-to-use platform and a way for you to access all your favorite content and work projects in one place.
3.
Let your work flow.
Our affordable tool enables you to establish a better return on investment, which promotes efficiency and encourages you to stay on track. With it, you can focus on what matters most – creating great content.