CI HUB Connector


for Google Sheets.

Unleash your creativity with one simple, dynamic integration platform.
Give your workflow a little boost with CI HUB's Google Sheets Integration!
At CI HUB, we understand the importance of being able to easily access essential data and files while using several tools. Our in-app interface allows you to manage your data within the program instead of switching back and forth between tabs.

Keeping track of your data can be difficult at times. That is why we decided to integrate our Connector into the Google Sheets program. Now you can revive your workflow in Google Sheets!


What is Google Sheets?
Google Sheets is a web-based program developed by Google for the creation and formatting of spreadsheets. The application is straightforward, with many features and tools that both simplify and speed up the development of documents. It is part of Google's productivity suite, Google Workspace, or previously known as: G Suite.

With it, you can organize information and perform data analyses, which can be used for companies of all sizes.

You can access the program from any computer or mobile device with an internet connection, but it also allows for offline editing. As it is with most Google services, the program is free and easy to work with.
Learn more
Integrate the CI HUB Connector
into your Google Sheets workflow
Google Sheets Integration
A company's ability to operate on a day-to-day basis requires laborious yet critical tasks, such as data entry, to be thoroughly and accurately completed. However, following through with this tedious step could be so much better with a little help from the CI HUB Connector! That is why we developed a tool that enables you to streamline your workflow in Google Sheets.
Our add-on enables you to connect the spreadsheet program to 60+ leading systems. Whether you want to track your personal finances, business inventory, or anything else, we can help manage the data with our Connector and make all your resources readily available within the application.
Using the integrated CI HUB Check Panel, you can browse multiple PIM, DAM, or cloud storage systems at the same time. Because our add-on securely syncs data between different applications, you can let our Connector do the manual labor in the background while you focus on the important work.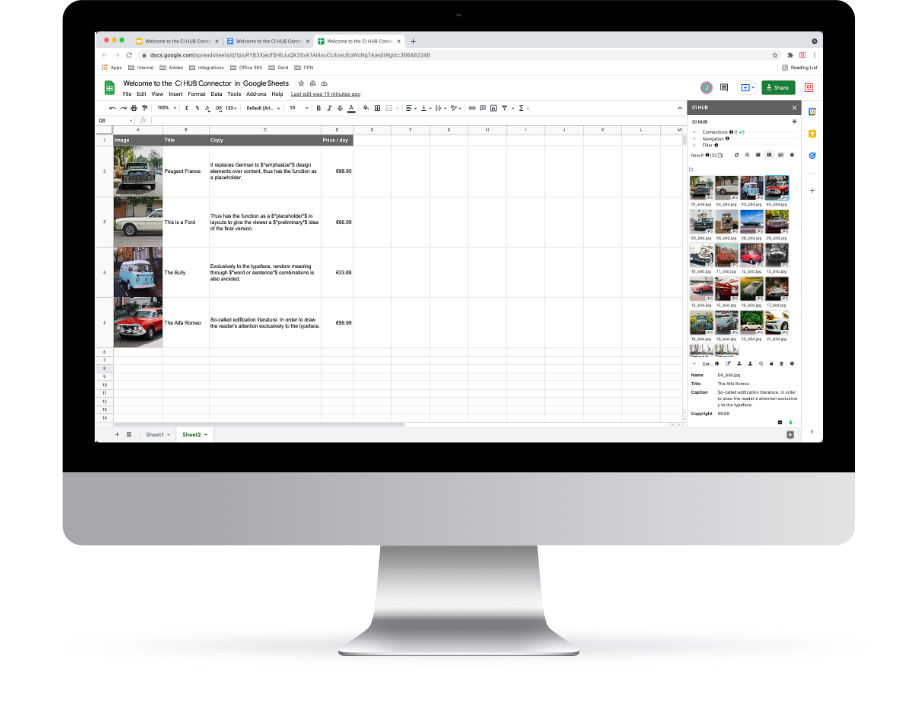 What are the benefits of the CI HUB
Connector?
User-friendly
The world of spreadsheets can be complicated. With Google Sheets, you can create and modify spreadsheets without specialized skills. However, the CI HUB Connector makes it even easier than that! The user-friendly interface allows you to browse and insert content from DAM or cloud storage systems while using the program. This way, you can also get all the text information about your selected asset, including custom metadata.
Simplify your workflow
If you are continually adding data to spreadsheets, our Connector can save you a lot of time and eliminate manual data entry. By connecting your various data sources to Google Sheets, you can create a single, centralized repository. This means you can spend less time on data entry and more time on analysis and content creation.
Excellent export
Our add-on allows you to save your sheet directly to any cloud storage system or DAM, without leaving Google Sheets. But it gets even better: with just one click, you can now save your sheet as an Excel file and move it to your connected system. You can also use the CI HUB CSV-Export Feature to export multiple selected assets and metadata content.
In addition to Google Sheets, the CI HUB
Connector is also available for the
following applications:
What is the CI HUB Connector?
CI HUB simplifies workflows in marketing, sales, and documentation. But what make our Connector unique? The CI HUB Connector facilitates direct access to digital assets within 17 applications.
Although it is only a simple add-in, it is tremendously beneficial for increased productivity. The automated transfer of data to and from systems within the app allows you to focus on important tasks and create better content with improved accuracy.
CI HUB connects your preferred application to any supported digital asset management system, work management system, or cloud service of your choice. With the Connector, you can stay in sync with your asset database and access projects and documents from anywhere. Likewise, you can easily make your content available for company-wide use by saving it to any source system.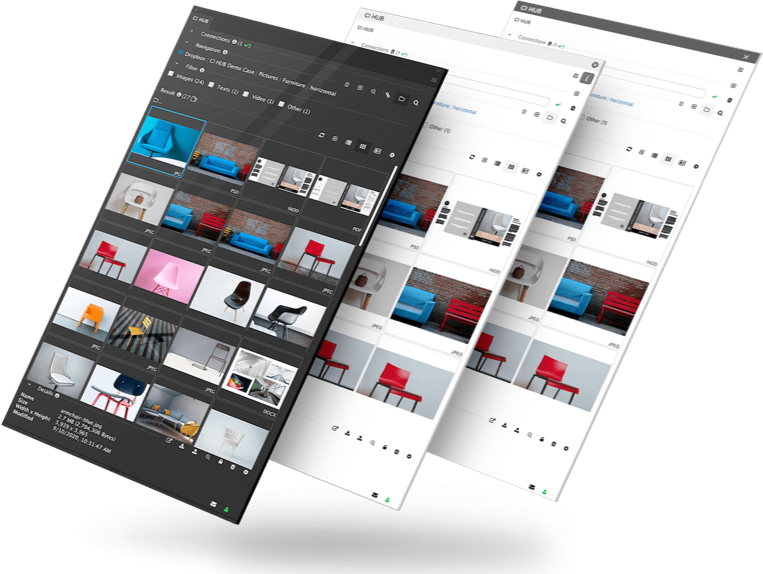 1.
Realize your full potential.
Does having just one access to your digital asset ecosystem seem impossible? Don't worry, at CI HUB, we made it possible!
2.
Interconnectivity at its finest.
We created a simple solution that only requires one plugin for multiple connections: it is an easy-to-use platform and a way for you to access all your favorite content and work projects in one place.
3.
Let your work flow.
Our affordable tool enables you to establish a better return on investment, which promotes efficiency and encourages you to stay on track. With it, you can focus on what matters most – creating great content.