CI HUB Connector


for Google Docs.

Unleash your creativity with one simple, dynamic integration platform.
Is your workflow stuck in a rut? With the CI HUB Connector, you will be back on the road and covering ground in no time!
The importance of having solid, reliable content creating tools goes without saying. However, one tool alone does not make the cut. Assets and content from external sources, or other applications, are key to the production of your content; however, compiling all of these resources in one place requires a third party, and that is why we decided to integrate our Connector into Google Docs.
This simple add-on – the CI HUB Connector – eliminates complicated content creation processes and reduces time loss. How? It connects all your favorite applications/content sources and allows you to easily locate and edit your files - all within Google Docs.
Start strong on those important projects with instant access to all your data in one place!
What is Google Docs?
Google Docs is a web-based word processing software developed by Google. It is part of the Google Workspace software package, but can also be used separately.

With it, you can create, edit, and format different types of texts online. The application allows you to share Google documents in real-time and opens the door for easy collaboration. All your files are automatically saved to Google Drive.

Google Docs is free to use. The writing tool is accessible on any device with an internet connection once you have logged into your Google account.
Learn more
Integrate Google Docs
into your workflow with the
CI HUB Connector
Google Docs Integration
With the CI HUB Connector, you can really get down to business in your Google Docs workflow.
The Connector provides instant access to 60+ leading systems and connection to the top content creating programs; it is all at your fingertips through one easy-to-use interface within the software. This not only encourages efficiency at work, but also simplifies and supports the content creating process.
With our add-on, all members of your team have access to Google documents, which streamlines the editing process and makes it easy for you to track changes. Collaboration is incredibly efficient, since everyone in your work unit can access, edit, and comment on documents or chat with one another – no matter when or where.
In addition, technical difficulties that often consume large amounts of time, such as manually searching for a file or switching between windows, will be immediately resolved by integrating the CI HUB Connector.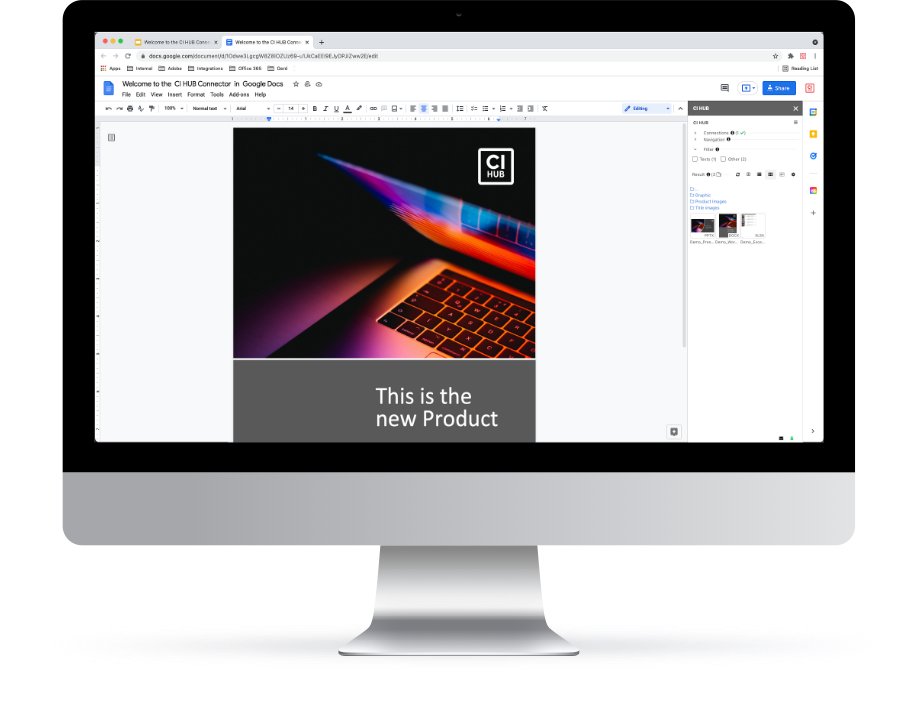 What are the benefits of the CI HUB
Connector?
Easy access to all your systems
With the CI HUB Connector, you can easily browse DAM, MAM, PIM, any cloud-based storage systems, stock providers, or work management systems within Google Docs. This direct in-app access provides complete freedom and flexibility when it comes to editing and working on your files.
Limitless content creation
The CI HUB Connector enables you to create different versions of your Google Doc while editing, which can then be stored in external systems. This can be extremely useful if you want to try out different wording or another layout for a document or project without losing previous drafts, thereby giving you more flexibility in the creative process.
Reduced data handling
Do away with time-consuming file handling when editing by directly saving your doc into any connected DAM, PIM, or cloud storage system. With the rendition feature, you can easily insert original Adobe Photoshop or Adobe Illustrator files into your Google Doc. Our add-on makes pulling content so easy.
In addition to Google Docs, the CI HUB
Connector is also available for the
following applications:
What is the CI HUB Connector?
CI HUB simplifies workflows in marketing, sales, and documentation. But what make our Connector unique? The CI HUB Connector facilitates direct access to digital assets within 17 applications.
Although it is only a simple add-in, it is tremendously beneficial for increased productivity. The automated transfer of data to and from systems within the app allows you to focus on important tasks and create better content with improved accuracy.
CI HUB connects your preferred application to any supported digital asset management system, work management system, or cloud service of your choice. With the Connector, you can stay in sync with your asset database and access projects and documents from anywhere. Likewise, you can easily make your content available for company-wide use by saving it to any source system.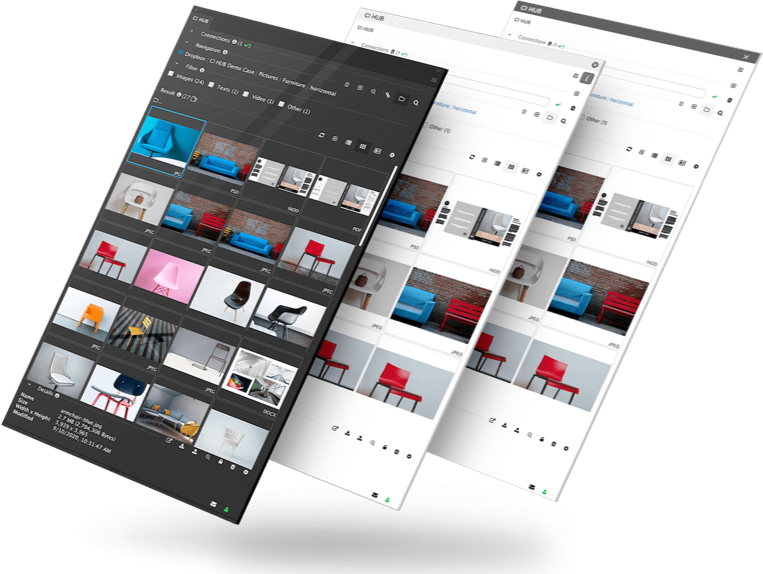 1.
Realize your full potential.
Does having just one access to your digital asset ecosystem seem impossible? Don't worry, at CI HUB, we made it possible!
2.
Interconnectivity at its finest.
We created a simple solution that only requires one plugin for multiple connections: it is an easy-to-use platform and a way for you to access all your favorite content and work projects in one place.
3.
Let your work flow.
Our affordable tool enables you to establish a better return on investment, which promotes efficiency and encourages you to stay on track. With it, you can focus on what matters most – creating great content.