Integrate Asana into


your workflow

Focus only on your work without any distractions with one simple, dynamic integration platform.
Integrating the CI HUB Connector into Asana is a breeze!
Streamline your workflows, connect your tools, and improve your work management with our integration into Asana. Now you can focus on what matters most: getting your work done.

At CI HUB, we understand how important work management systems are in making life easier for teams. These systems play a crucial role in streamlining teamwork or managing campaigns or deadlines. That is why we decided to integrate the work management system Asana, into our Connector. Now the entire team can have access to all the digital assets and Asana tasks in one centralized location.
What is Asana?
Asana is a mobile work management platform that helps teams stay organized and on top of their projects and tasks. It is a powerful tool for business operations, that makes effortless collaboration and organizational communication between team members possible.
Learn more
Discover how you can integrate
the CI HUB Connector into your
Asana workflow
Asana Integration
Integrating our Connector into the Asana work management system makes your tasks conveniently searchable and accessible in any supported application.
Our extension makes it possible for you to connect Asana to the most popular apps and tools, while facilitating a more open exchange of information between programs. This provides an opportunity for you to automate tasks and have more time to focus on your work.
Make Asana's task display feature accessible within your preferred application, so you can search and select tasks using the search function or filters. You can also view and edit the task details of your Asana projects, add comments, and change their status. These features make it easy for you to stay on track and make informed management decisions.
Finally, this not only liberates you from the hassle of window hopping, but also reduces the scope of manual work.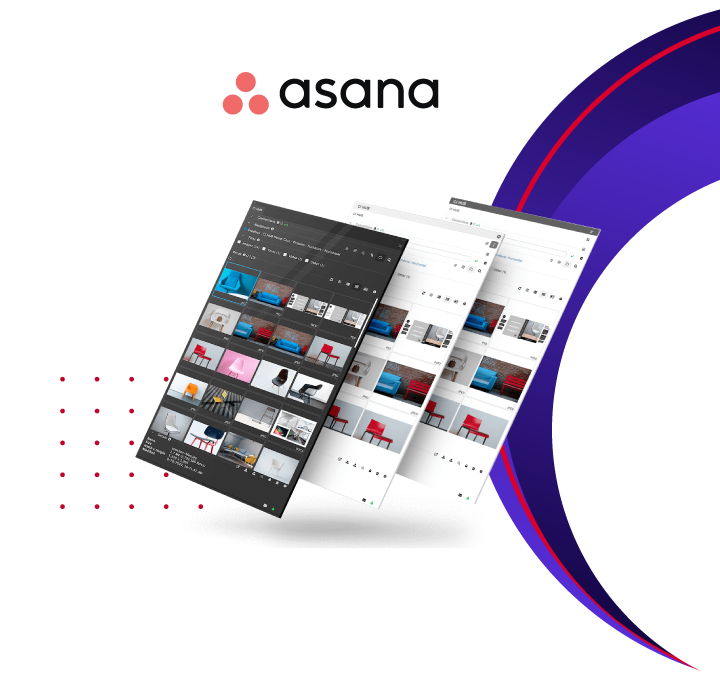 What are the benefits of the CI HUB
Connector?
First-class functionality
The Connector extends the impact and reach of your management system by connecting apps, data repositories, and people. It supports an endless variety of asset types, such as images, videos, layout files, and metatexts. Regardless of where your assets are sourced, the CI HUB Connector helps you find and save links, browse for similar images, use the search function, track digital rights, and more.
Easy access
Our integration into Asana boosts productivity by making tasks easily accessible within any selected application. These tasks can be displayed by searching or filtering in the CI HUB Check Panel. You will get instant access to your data, no matter where it is located. You can also you can find information, change status, or view and enter comments. Eliminate the inconvenient browsing or window hopping and maximize your time while minimizing effort in an easy-to-use interface.
In addition to Asana,
the CI HUB Connector is also available
for the following applications:
What is the CI HUB Connector?
CI HUB simplifies workflows in marketing, sales, and documentation. But what make our Connector unique? The CI HUB Connector facilitates direct access to digital assets within 17 applications.
Although it is only a simple add-in, it is tremendously beneficial for increased productivity. The automated transfer of data to and from systems within the app allows you to focus on important tasks and create better content with improved accuracy.
CI HUB connects your preferred application to any supported digital asset management system, work management system, or cloud service of your choice. With the Connector, you can stay in sync with your asset database and access projects and documents from anywhere. Likewise, you can easily make your content available for company-wide use by saving it to any source system.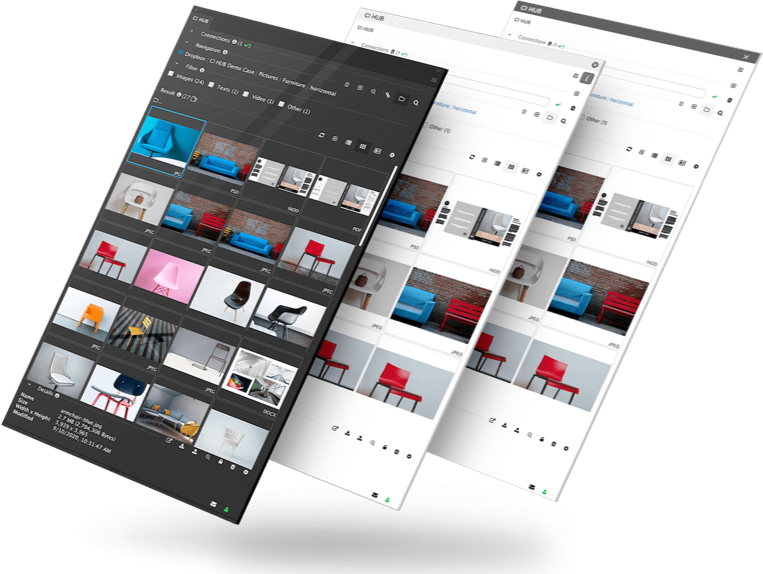 1.
Realize your full potential.
Does having just one access to your digital asset ecosystem seem impossible? Don't worry, at CI HUB, we made it possible!
2.
Interconnectivity at its finest.
We created a simple solution that only requires one plugin for multiple connections: it is an easy-to-use platform and a way for you to access all your favorite content and work projects in one place.
3.
Let your work flow.
Our affordable tool enables you to establish a better return on investment, which promotes efficiency and encourages you to stay on track. With it, you can focus on what matters most – creating great content.