Workfront:


manage your work on the front line.

Unleash your creativity with one simple, dynamic integration platform.
Integrating the CI HUB Connector into your Workfront workflow will give you the upper hand on project management!
CI HUB's Workfront Integration enables you to not only streamline your workflows, but also connect your tools and make tasks visible within any supported content-creating application, so that you can focus on what matters most: thoroughly and accurately completing your work.

At CI HUB, we understand the importance of a good work management system. These systems play a crucial role in streamlining teamwork or managing campaigns and deadlines. Workfront is where the strategies are formulated and the plans are laid out to prioritize tasks and track project execution. That is why we decided to integrate our Connector into Adobe Workfront. Now the entire team can utilize this work management system and access it from any connected content-creating application.
What is Workfront?
Adobe Workfront is a web-based work and project management software that helps companies effectively plan, execute, and complete projects. With the built-in insight tools, you can also analyze project progression, workload balance, achievements, priorities, and resource management.

Its features include time tracking, resource management and allocation, workflow automations, real-time reporting tools, and much more. Workfront is a powerful tool for optimizing business operations. It streamlines your workflows, enables insightful decision-making based on up-to-date dashboards and generated reports, simplifies collaboration, and provides company-wide visibility to all projects.

Workfront's resource management tool displays employee work capacity; in other words, you can quickly see who has a larger workload and which person is best suited for a specific purpose, so that you can allocate tasks accordingly.
Learn more
Find out how you can integrate the
CI HUB Connector into your Workfront
workflow
Workfront Integration
Integrating the CI HUB Connector into Adobe Workfront simplifies project management, communication between team members, and increases project ROI.
Our extension allows you to connect Workfront with the most popular content-creating apps and instantly links to 60+ leading systems, including DAM, MAM, PIM, and stock providers. Tasks established in Workfront are automatically linked to any connected application so they can be viewed, edited, or commented on within that application.
With CI HUB's task display feature, you can search and select tasks within your preferred application by using full text searches or filters. These features make it easy for you to stay on track and accurately make necessary changes while creating your content.
Finally, this not only relieves you from the hassle of window hopping, but also reduces the scope of manual work and assists you in more efficiently and accurately bringing your projects to fruition.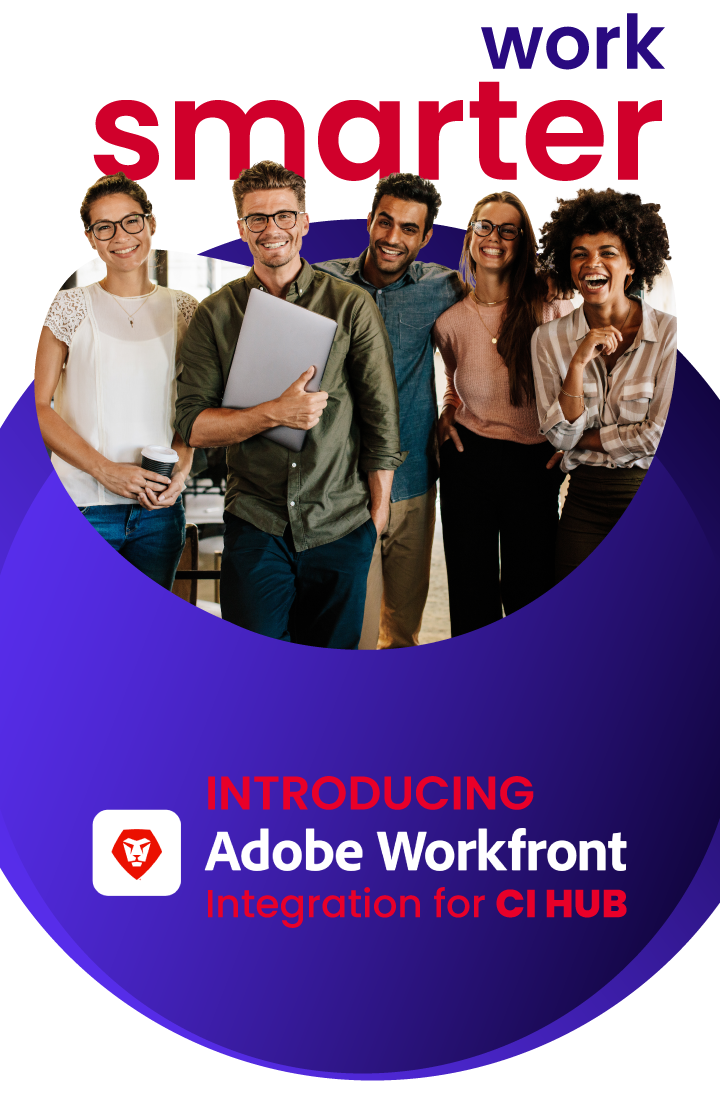 What are the benefits of the CI HUB
Connector?
Increased efficiency and effectiveness
The CI HUB Connector provides you with the toolset you need for successful project execution. The ability to view and comment on tasks within any connected content-creating application, prevents confusion of information or the loss of your creative train of thought.
Connectivity
Our extension allows you to connect to multiple sources at the same time. Therefore, you can locate assets from your DAM, PIM, or cloud storage system, use the Drag & Drop feature to add them to a task, and track their usage. The Connector also simplifies the interaction between work management systems, like Adobe Workfront, and third-party systems – all from within your preferred application.
Great teamwork
The CI HUB Connector enables you to link your teams together and manage everything within the app. By connecting your work management platform to digital asset storage systems, teamwork and communication can be significantly simplified and streamlined, as well as minimizing data handling across the company.
In addition to Workfront, the CI HUB Connector is also available for the
following applications:
What is the CI HUB Connector?
CI HUB simplifies workflows in marketing, sales, and documentation. But what make our Connector unique? The CI HUB Connector facilitates direct access to digital assets within 17 applications.
Although it is only a simple add-in, it is tremendously beneficial for increased productivity. The automated transfer of data to and from systems within the app allows you to focus on important tasks and create better content with improved accuracy.
CI HUB connects your preferred application to any supported digital asset management system, work management system, or cloud service of your choice. With the Connector, you can stay in sync with your asset database and access projects and documents from anywhere. Likewise, you can easily make your content available for company-wide use by saving it to any source system.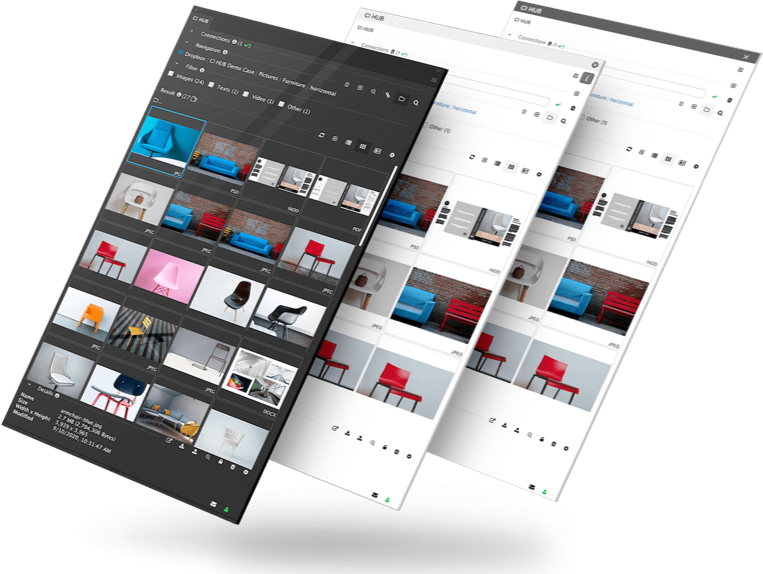 1.
Realize your full potential.
Does having just one access to your digital asset ecosystem seem impossible? Don't worry, at CI HUB, we made it possible!
2.
Interconnectivity at its finest.
We created a simple solution that only requires one plugin for multiple connections: it is an easy-to-use platform and a way for you to access all your favorite content and work projects in one place.
3.
Let your work flow.
Our affordable tool enables you to establish a better return on investment, which promotes efficiency and encourages you to stay on track. With it, you can focus on what matters most – creating great content.