CI HUB Connector


for Adobe Photoshop.

Versioning has never been easier.
Unleash your creativity with one simple, dynamic integration platform.
Step up your game with CI HUB's Photoshop Integration!
A creative mind needs nothing more than an undistracted environment to focus on the production of high-quality content. Integrating the CI HUB Connector into Photoshop enables you to streamline your workflow and connect to 60+ leading systems; without leaving the program.
At CI HUB, we understand just how much continuity can influence creativity. Our Connector plays a crucial role in streamlining creative production, collaboration, and project management. Enjoy easy sharing capabilities and instant access to all your digital assets from one centralized location within the program. Now you can put your frustration behind you and say hello to smooth sailing!


What is Photoshop?
Photoshop is a raster graphics editor developed by Adobe Inc.. It is used for the creative production of imagery. Photoshop is part of the Adobe Creative Cloud licensing package, but can also be purchased separately. The program has set the standard in the industry; its name has even become a colloquial verb for image editing.

For specialized editing, Photoshop comes in several variations; together, they are known as the "Adobe Photoshop Family". You can layer images, replace backgrounds, create or insert graphics, erase objects, colorize photos, and so much more! The software is suitable for both professional and personal use.

Photoshop can be used to improve marketing strategies, attract more attention on social media, or any other purpose that involves creative imagery and/or graphics.
Learn more
Find out how you can integrate the
CI HUB Connector into your Photoshop
workflow
Photoshop Integration
At CI HUB, we developed a tool that enables you to simplify the production process in Adobe Photoshop.
With the Photoshop Integration, you can search, access, and distribute all of your content within the application. This helps improve productivity and free up time anchored by tedious tasks. In addition to the numerous other benefits of our user-friendly integration, the seamless installation only takes a few minutes and ensures complete data protection.
This plug-in allows everyone in your team to access Photoshop files from any other connected application. That way, both you and your team can effortlessly collaborate on a project while using different tools. This makes it easy to streamline workflows and enhance the creative process.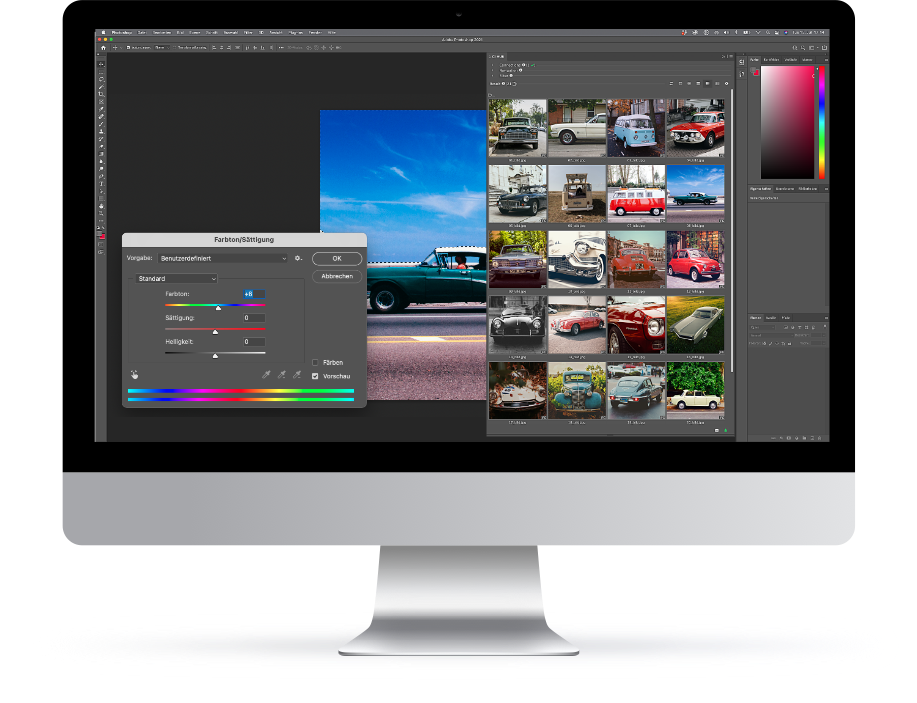 What are the benefits of the CI HUB
Connector?
Simplified work management
Our integration simplifies your daily work by speeding up processes and streamlining workflows. In addition, it also tracks changes which lead to increased productivity, high quality content, ensure compliant asset handling, and most importantly: enable you to focus on your work.
First-class functionality
The Connector extends the impact and reach of your graphics editor by linking apps, data sources, and people. It supports an endless variety of asset types, such as images, videos, layout files, and metatexts. No matter where your assets are sourced, our Connector will enable you to find and save links, browse for similar images, search, track digital rights, and more.
In addition to Adobe Photoshop, the CI HUB
Connector is also available for the
following applications:
What is the CI HUB Connector?
CI HUB simplifies workflows in marketing, sales, and documentation. But what make our Connector unique? The CI HUB Connector facilitates direct access to digital assets within 17 applications.

Although it is only a simple add-in, it is tremendously beneficial for increased productivity. The automated transfer of data to and from systems within the app allows you to focus on important tasks and create better content with improved accuracy.

CI HUB connects your preferred application to any supported digital asset management system, work management system, or cloud service of your choice. With the Connector, you can stay in sync with your asset database and access projects and documents from anywhere. Likewise, you can easily make your content available for company-wide use by saving it to any source system.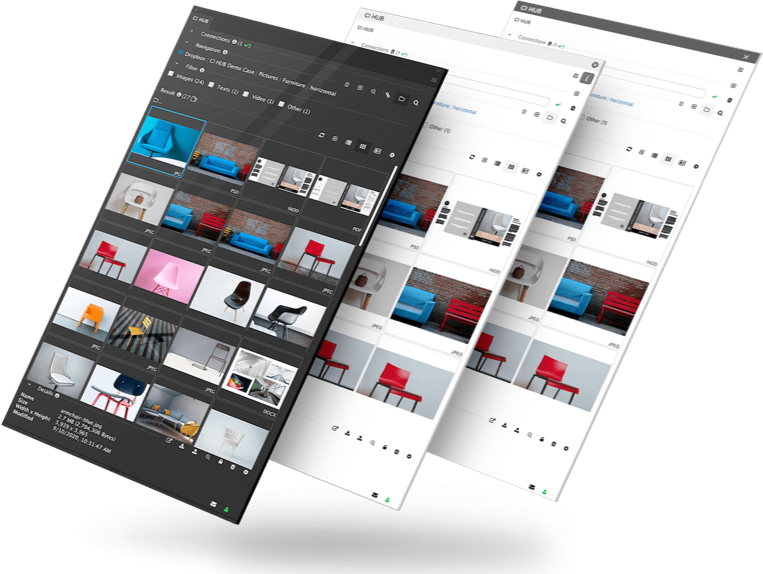 1.
Realize your full potential.
Does having just one access to your digital asset ecosystem seem impossible? Don't worry, at CI HUB, we made it possible!
2.
Interconnectivity at its finest.
We created a simple solution that only requires one plugin for multiple connections: it is an easy-to-use platform and a way for you to access all your favorite content and work projects in one place.
3.
Let your work flow.
Our affordable tool enables you to establish a better return on investment, which promotes efficiency and encourages you to stay on track. With it, you can focus on what matters most – creating great content.