The next big thing for people who work

InDesign
Unleash your creativity with one simple, dynamic integration platform.
With the CI HUB Connector, you can now experience a mind-blowing difference in the productivity and quality of your InDesign workflow.
Struggling to track changes to your document or locate an image to insert into your project? Need to collaborate with your colleague or client for review and feedback? With the click of a button, CI HUB's integration into InDesign can instantly resolve these problems and many more!
At CI HUB, we understand just how much a structured workflow can improve productivity and enhance your creative potential. That is why we developed a plug-in that organizes your workflow and centralizes your asset pool. All the elements conducive to progress are conveniently incorporated into one simple extension.
What is InDesign?
InDesign is a desktop publishing software developed by Adobe Inc. as part of the Adobe Creative Cloud licensing package. It is primarily used by production artists and graphic designers for the creation and designing of page layouts in digital publications and printed media.

InDesign can be used to create the layout for print books, e-books, magazines, brochures, posters, etc. Digital publications can be made interactive and eye-catching with the inclusion of audio, video, animations, or slideshows. InDesign is also the gateway to a repository of royalty-free imagery or graphics from Adobe Stock and premium typography from the industry's top foundries.

With Adobe InDesign, collaboration is facilitated through its built-in integration with Adobe Experience Manager and Adobe Creative Cloud. You can also quickly share content or feedback through PDFs, or use the Share for Review feature to either invite specific individuals or an entire group to access a document for review.
Learn more
Discover how you can integrate
InDesign into your workflow
with the CI HUB Connector
InDesign Integration
Integrating the CI HUB Connector into your InDesign workflow could not be easier!
Integrating CI HUB's simple plug-in into Adobe InDesign allows you to connect the program to 60+ leading systems. The Connector aggregates information and assets from all connected sources and systems into one diverse data pool that is accessible within InDesign. This helps increase efficiency and make it possible to spend more time creating great content.
With our plug-in, everyone in your team can access files in InDesign using the bidirectional exchange feature. This makes it easy to edit documents in different applications and track changes. It also allows you to comment, chat, and collaborate with others; no matter where they are. The InDesign Integration augments content creation and provides a solution for effortless collaboration.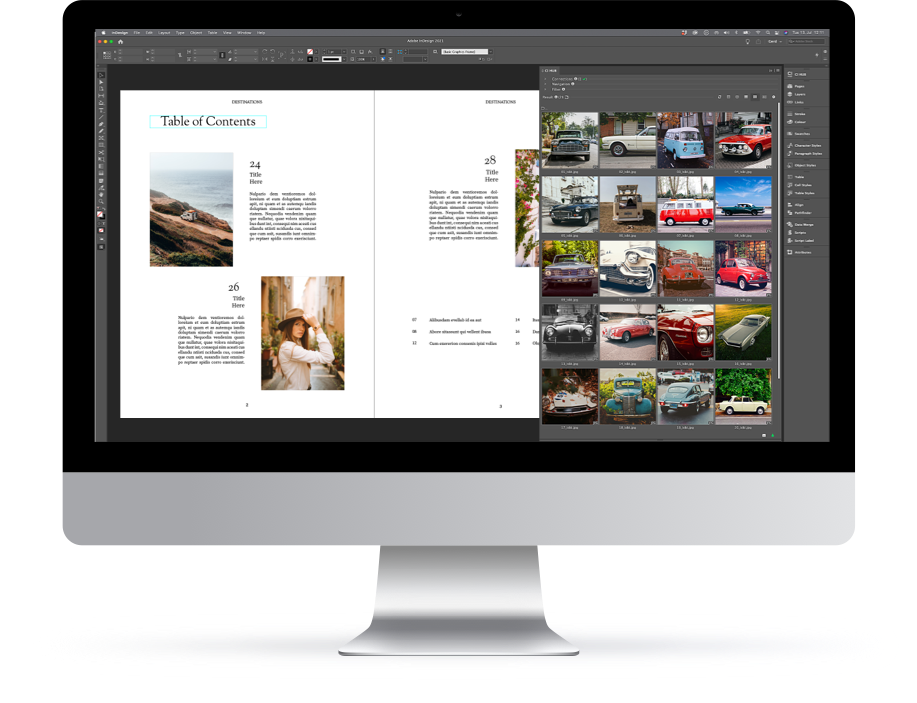 What are the benefits of the CI HUB
Connector?
Rendition feature
This feature allows you to insert original Adobe Photoshop or Adobe Illustrator files into InDesign. If you need to temporarily optimize your file size for editing or review, you can convert images to a low resolution. With a single click, you can switch them back to the original high-resolution version at any time.
In addition to Adobe InDesign, the CI HUB
Connector is also available for the
following applications:
What is the CI HUB Connector?
CI HUB simplifies workflows in marketing, sales, and documentation. But what make our Connector unique? The CI HUB Connector facilitates direct access to digital assets within 17 applications.
Although it is only a simple add-in, it is tremendously beneficial for increased productivity. The automated transfer of data to and from systems within the app allows you to focus on important tasks and create better content with improved accuracy.
CI HUB connects your preferred application to any supported digital asset management system, work management system, or cloud service of your choice. With the Connector, you can stay in sync with your asset database and access projects and documents from anywhere. Likewise, you can easily make your content available for company-wide use by saving it to any source system.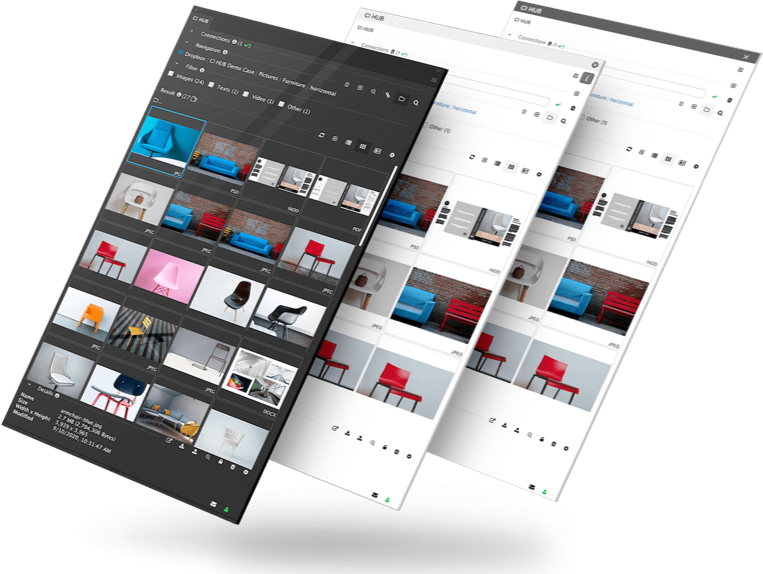 1.
Realize your full potential.
Does having just one access to your digital asset ecosystem seem impossible? Don't worry, at CI HUB, we made it possible!
2.
Interconnectivity at its finest.
We created a simple solution that only requires one plugin for multiple connections: it is an easy-to-use platform and a way for you to access all your favorite content and work projects in one place.
3.
Let your work flow.
Our affordable tool enables you to establish a better return on investment, which promotes efficiency and encourages you to stay on track. With it, you can focus on what matters most – creating great content.