Everything is possible

InCopy and InDesign.
Unleash your creativity with one simple, dynamic integration platform.
Our integration into Adobe InCopy allows you to streamline your workflows and connect your tools, so that you can focus on what matters most: getting your work done.
Copywriting and editing can become challenging when searching for assets from external locations or simply being unable to work without technical distractions, like window hopping or prolonged loading times. With the InCopy Integration, you can prevent these issues and accomplish so much more!
At CI HUB, we understand the important role that content creating tools play in making your life easier. The InCopy Integration is instrumental in maximizing your time, facilitating collaboration, and managing your content. That is why we decided to integrate our Connector into Adobe InCopy. Now you can stay in your creative workflow without distractions or constant window hopping.
What is InCopy?
InCopy is a word processing software developed by Adobe Inc. for professional copywriting and editing. The program is part of the Adobe Creative Cloud licensing package, but can also be purchased separately.

InCopy is primarily used for writing, editing, basic designing, and layout development. Although InCopy can be a stand-alone, it is specifically designed to be used in tandem with Adobe InDesign. Together, these applications provide the complete toolset needed to create and publish written content.

The program also features three different viewing modes: galley mode, story mode, and layout mode. Galley mode displays the technical aspect of how your text will fit into the corresponding InDesign layout. Story mode removes all layout details so you can just focus on the content itself. Finally, layout mode displays the end product that will be published. InCopy easily integrates with InDesign to enable copywriters and editors to collaborate with designers so that content creation and design can occur simultaneously, without overwriting one another's work!
Learn more
Find out how you can integrate the
CI HUB Connector into your InCopy
workflow
InCopy Integration
With the CI HUB Connector, you can now streamline your workflow in Adobe InCopy.
This simple plug-in allows you to connect InCopy to 60+ leading systems, thereby enabling a free-flowing exchange of information between programs. This provides an opportunity for you to automate tasks and have more time to focus on your work and the creative process.
With the CI Hub Check Panel, you can drag and drop images, files, or metadata into your InCopy document using full text searches or filters. You can also collaborate with others to view and edit your content, add comments, and adjust the design and/or layout. These features make it easy for you to track changes and accelerate the content creation process.
The Connector's user-friendly interface not only relieves you from the hassle of window hopping and searching through folders, but also reduces the general scope of manual work.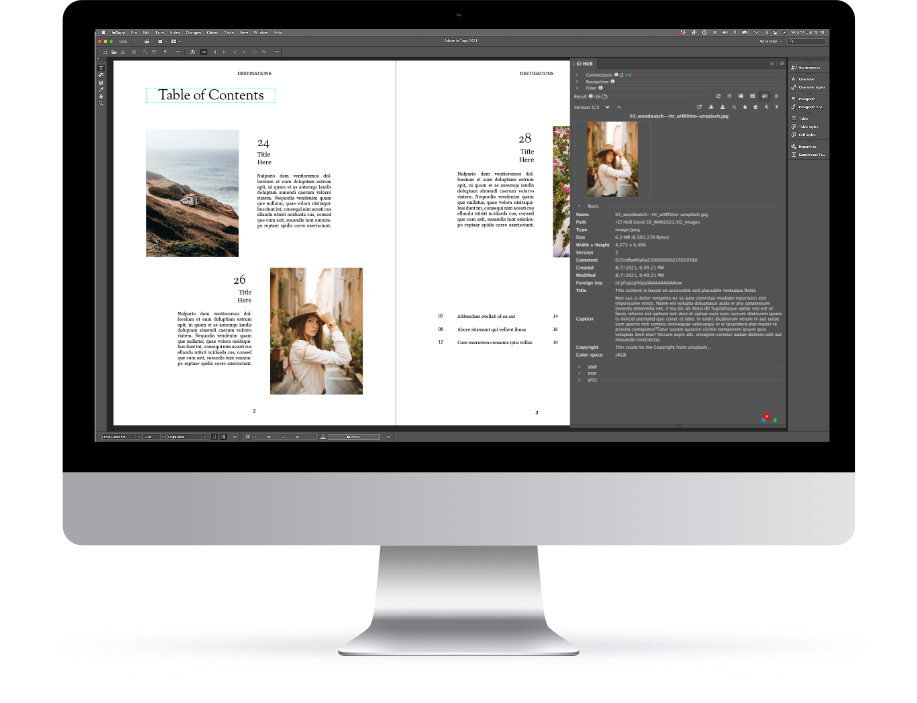 What are the benefits of the CI HUB
Connector?
Rendition feature
This feature allows you to insert original Adobe Photoshop or Adobe Illustrator files into InCopy. If you need to temporarily optimize your file size for editing or review, you can convert images to a low resolution. With a single click, you can switch them back at any time to the original high resolution version.
In addition to InCopy, the CI HUB
Connector is also available for the
following applications:
What is the CI HUB Connector?
CI HUB simplifies workflows in marketing, sales, and documentation. But what make our Connector unique? The CI HUB Connector facilitates direct access to digital assets within 17 applications.
Although it is only a simple add-in, it is tremendously beneficial for increased productivity. The automated transfer of data to and from systems within the app allows you to focus on important tasks and create better content with improved accuracy.
CI HUB connects your preferred application to any supported digital asset management system, work management system, or cloud service of your choice. With the Connector, you can stay in sync with your asset database and access projects and documents from anywhere. Likewise, you can easily make your content available for company-wide use by saving it to any source system.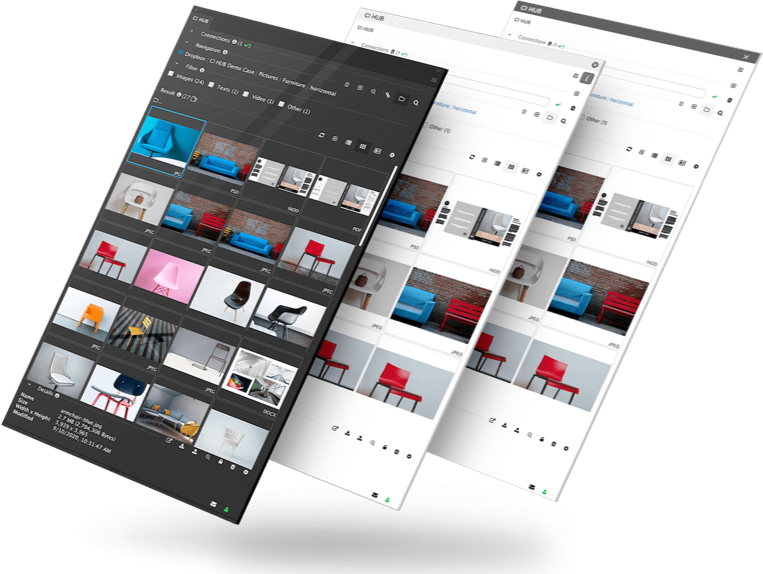 1.
Realize your full potential.
Does having just one access to your digital asset ecosystem seem impossible? Don't worry, at CI HUB, we made it possible!
2.
Interconnectivity at its finest.
We created a simple solution that only requires one plugin for multiple connections: it is an easy-to-use platform and a way for you to access all your favorite content and work projects in one place.
3.
Let your work flow.
Our affordable tool enables you to establish a better return on investment, which promotes efficiency and encourages you to stay on track. With it, you can focus on what matters most – creating great content.