CI HUB Connector


for Adobe Illustrator.

Unleash your creativity with one simple, dynamic integration platform.
Maximize time and minimize effort with by seamlessly integrating the CI HUB Connector into your Illustrator workflow!
Sometimes, doing a simple task like locating and inserting images from 3rd party systems into your Illustrator project can present with difficulty or even feel chaotic. However, by integrating the CI HUB Connector, you can both eliminate this inconvenience altogether and organize your workflow with one simple access to any connected storage system - without leaving the program. Your entire asset database is compiled into one orderly and accessible panel within the application. The Connector makes it possible for you to stay focused on the creative side of your work.
At CI HUB, we understand just how frustrating it is to be interrupted or distracted while creating content and designs. That is why we integrated our Connector into Adobe Illustrator. Now you can stay in your creative workflow without distractions or perpetual window hopping.


What is Adobe Illustrator?
Adobe Illustrator is a professional vector graphics editing software developed by Adobe Inc. The program is part of the Adobe Creative Cloud licensing package, but can also be purchased separately.

Adobe Illustrator comes with all the features necessary to create illustrations, vector graphics, logos, and icons for graphic design and web development. The software is renowned for its high precision tools and boundless creative potential. For example, you can create interactive visuals, intertwine text with graphics, or convert 2D objects to 3D objects.

Adobe Illustrator's built-in toolset provides you with a unique opportunity to express your creativity. Use the paintbrush tools to alter an object's appearance, or the selection tools to change your layout. Furthermore, the pen tools can be used to add anchor points, while the pencil tools enable you to do some freehand drawing.
Learn more
Check out how you can integrate
the CI HUB Connector into your
Illustrator workflow
Illustrator Integration
Adobe Illustrator already has a lot to offer, however you can take it one step further by integrating the CI HUB Connector into your workflow.
Our simple plug-in enables you to connect Illustrator with the best applications. Now you can become more efficient by freeing up more time to focus on what is important.
The CI HUB Connector allows everyone in your team to access Illustrator files within their favorite supported application. That way, both you and your team can work on a project together while using different tools. This makes it easy to streamline workflows and enhance the creative process.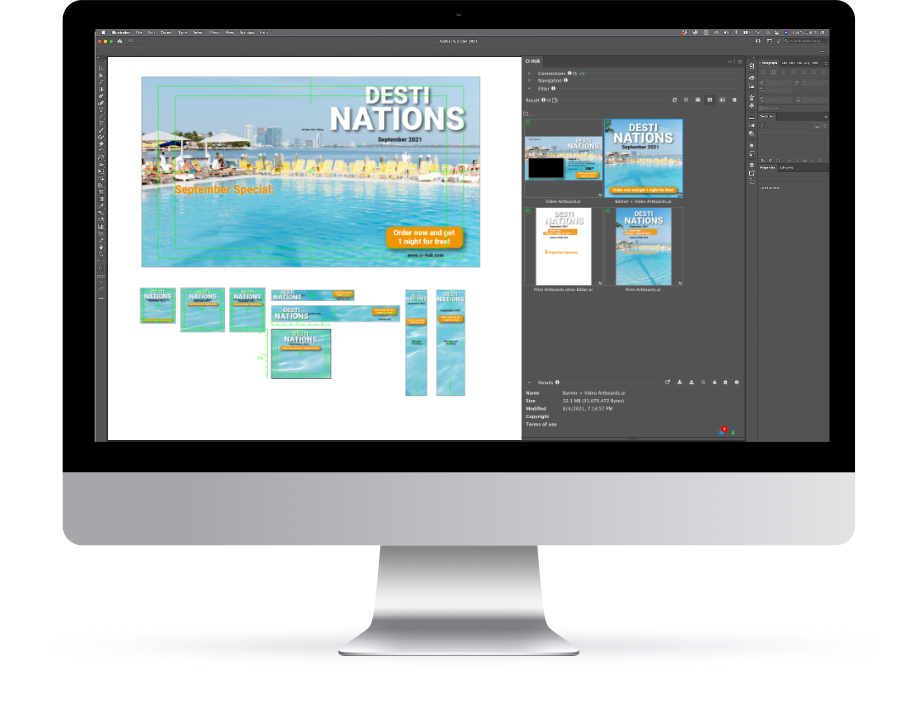 What are the benefits of the CI HUB
Connector?
Limitless creative potential
Illustrator is an easy-to-use vector graphics editor with little to no creative limits and endless design possibilities. With the CI HUB Connector, you can create different versions of your content while editing, which allows you to adapt it to your liking. You also have full control over these created versions, including the thumbnails and timestamps.
In addition to Adobe Illustrator, the CI HUB
Connector is also available for the
following applications:
What is the CI HUB Connector?
CI HUB simplifies workflows in marketing, sales, and documentation. But what make our Connector unique? The CI HUB Connector facilitates direct access to digital assets within 17 applications.
Although it is only a simple add-in, it is tremendously beneficial for increased productivity. The automated transfer of data to and from systems within the app allows you to focus on important tasks and create better content with improved accuracy.
CI HUB connects your preferred application to any supported digital asset management system, work management system, or cloud service of your choice. With the Connector, you can stay in sync with your asset database and access projects and documents from anywhere. Likewise, you can easily make your content available for company-wide use by saving it to any source system.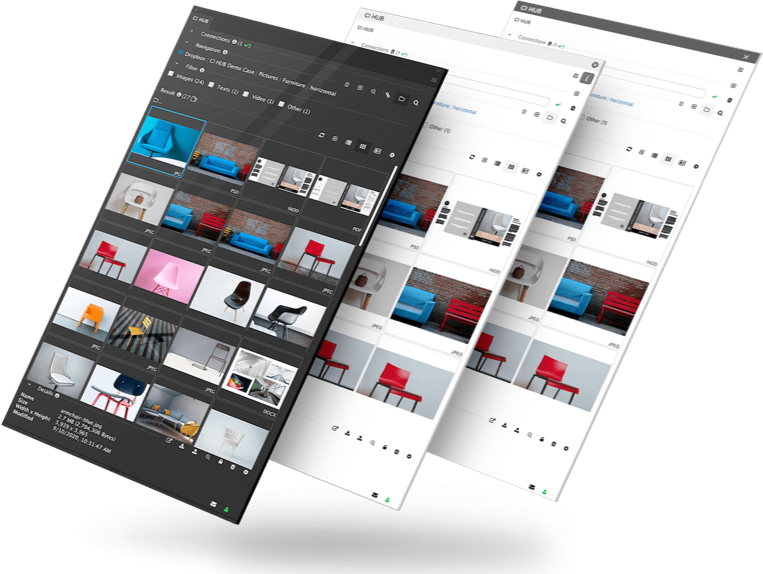 1.
Realize your full potential.
Does having just one access to your digital asset ecosystem seem impossible? Don't worry, at CI HUB, we made it possible!
2.
Interconnectivity at its finest.
We created a simple solution that only requires one plugin for multiple connections: it is an easy-to-use platform and a way for you to access all your favorite content and work projects in one place.
3.
Let your work flow.
Our affordable tool enables you to establish a better return on investment, which promotes efficiency and encourages you to stay on track. With it, you can focus on what matters most – creating great content.