The biggest

After Effects:


less work, more fun.

Unleash your creativity with one simple, dynamic integration platform.
Integrating the CI HUB Connector into your After Effects workflow is an effortless solution with rewarding outcomes!
Uploading footage from third-party systems into your project can sometimes lead to difficult situations and disorder. However, the After Effects Integration allows you to easily access files stored in external locations without leaving the program. Your entire asset database is compiled into one orderly and accessible panel within the application. Now you can simplify the task of relinking footage or inserting files with a direct search in the CI HUB Check Panel - all within After Effects!

At CI HUB, we understand the significant impact that a structured workflow has on both your productivity and accuracy. That is why we decided to integrate our Connector into Adobe After Effects. Smooth sailing is just one click away!
What is After Effects?
Adobe After Effects is an award-winning video development software used in the post-production phase of film making, television production, or video game creation. The program is designed to enable the digital manipulation of imagery. It is primarily used for visual effects, animation, compositing, and motion graphics, but can also serve as a basic non-linear video editor, audio editor, or media transcoder.

After Effects is designed to integrate with many other third-party extensions, plug-ins, and scripts to broaden the overall scope of the application's functionality and reduce its creative limitations. It is often used in conjunction with Adobe's video editing software, Premiere Pro, to add the finishing touch to video production.

With Adobe After Effects, you can create visual masterpieces that have incredible visual effects, clean transitions, and much more. The software can be used for anything from basic visual effects to complex 3D motion graphics, such as particle systems.
Learn more
Discover how you can integrate
the CI HUB Connector into your After Effects workflow
After Effects Integration
The CI HUB Connector is a real game-changer. With instant access to 60+ leading systems, connection to 17 supported applications, and several advantageous collaboration features, there is nothing to lose! Our extension enables you to maximize on time, minimize effort, and streamline your workflow in Adobe After Effects.
Implementing our simple plug-in means that all of your content can be accessed in just one place, regardless of where it is located. Trade the tedious window hopping for a direct search in After Effects using the integrated CI HUB Check Panel. This is your all-in-one access to files and footage from various locations, such as your cloud storage or another connected application. You can also drag and drop footage from third-party systems without leaving the program.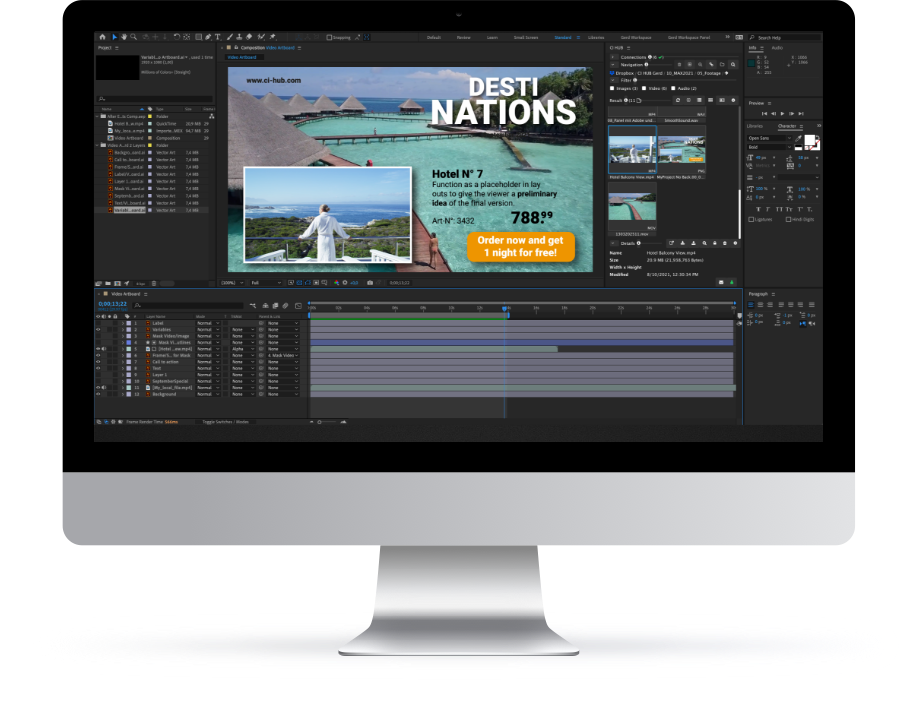 What are the benefits of the CI HUB
Connector?
Premium functionality
The Connector supports a diverse span of asset types, such as images, videos, layout files, and metatext. So, no matter where your assets are stored, the CI HUB Connector helps you source and link footage, browse for similar images, use the search function, track digital rights, and more.
Easy browsing
With our plug-in, you can browse DAM, MAM, PIM, cloud storage, stock providers, or any supported work management system within After Effects. It allows you to directly insert files and edit video content within your Adobe application – regardless of where your material is located. Pulling content has never been easier!
Boundless creativity
After Effects is a robust visual effects software that has minimal creative limitations. With the CI HUB Connector, you can extend the usefulness of the program even more. For example, you can create and track different versions of your project while simultaneously editing the current version.
In addition to Adobe After Effects,
the CI HUB Connector is also available
for the following applications:
What is the CI HUB Connector?
CI HUB simplifies workflows in marketing, sales, and documentation. But what make our Connector unique? The CI HUB Connector facilitates direct access to digital assets within 17 applications.
Although it is only a simple add-in, it is tremendously beneficial for increased productivity. The automated transfer of data to and from systems within the app allows you to focus on important tasks and create better content with improved accuracy.
CI HUB connects your preferred application to any supported digital asset management system, work management system, or cloud service of your choice. With the Connector, you can stay in sync with your asset database and access projects and documents from anywhere. Likewise, you can easily make your content available for company-wide use by saving it to any source system.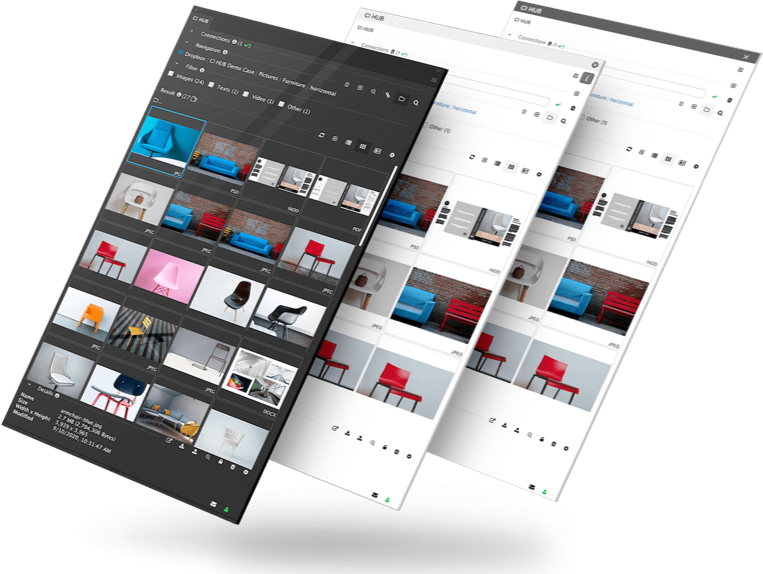 1.
Realize your full potential.
Does having just one access to your digital asset ecosystem seem impossible? Don't worry, at CI HUB, we made it possible!
2.
Interconnectivity at its finest.
We created a simple solution that only requires one plugin for multiple connections: it is an easy-to-use platform and a way for you to access all your favorite content and work projects in one place.
3.
Let your work flow.
Our affordable tool enables you to establish a better return on investment, which promotes efficiency and encourages you to stay on track. With it, you can focus on what matters most – creating great content.