On the 22nd of February, we hosted our first Henry Stewart Webinar of the year, titled " Integrate your DAM with Microsoft 365 & Google Workspace ".
Our CEO, Andreas Michalski and Gerd Glaser, Head of Customer Success had the opportunity to discuss how DAM functionalities such as full-text search, filters, low-resolution images and texts from metadata can be integrated directly into Office 365 and Google applications with the CI HUB add-in.
If you've missed our session, you can now watch it below and get all the insights you need on how to integrate your DAM with Microsoft & Google Workspace.
We also hosted a Q&A session with our participants where you can find a lot of answers about CI HUB Connector's functionality, tips & tricks.
Q&A from the HSE Webinar 22. Feb 2022
Q: Are all the cross-platform integrations web-based? Or is there the option for on-prem and hybrid systems working across on-prem and Cloud solutions?
A: CI HUB supports both Cloud and on-prem solutions. There is detailed info what are the requirements.
Q: When onboarding new clients, how much customization and development is required (not configuration) for standard applications? How big a project is it for standard behavior and features?
A: The Installation of a CI HUB Connector takes app 1 Minute. And to connect to your Repository or DAM System it also takes approximately 30 seconds. After this, there is NO additional effort needed.
Q: Do you have any clients in the government sector?
A: Yes
Q: Do you have any other recorded presentations or case studies available publicly?
A: Yes. You can visit our Website and enjoy the Tutorials or Academy Videos, or visit our Youtube channel. We create new videos almost every week, so we hope you find everything that explains CI HUB.
Q: Are rendition sizes set by CI HUB? Can customized sizes be added?
A: All rendition sizes are dynamic and are defined within your connected system. So we do support all customized sizes and names.
Q: Can you export the DAM image info to a CSV file, and later can you import more information into the images already. is there any AI keywording?
A: YES, CI HUB supports the option of Exporting a CSV incl. Image and Metadata within certain products (in the moment Adobe InDesign). This CSV can be edited and reimported depending on your connected system. The import or the AI options are not part of CI HUB.
Q: CI HUB provides some fantastic functionality.
A: 🙂 THanks
Q: It must integrate through all of the different systems via APIs. You mention DAM generically. What if you have a DAM with which you haven't developed an integration previously. Are our custom integrations an option?
A: Yes, we integrate by using the official API of the connected system. The API and the selected integration level are the only limiting factors for integrating into CI HUB.
If a system vendor is missing, we are happy to talk to them at any time. They can contact us via ami@ci-hub.com. It would take approximately 2 weeks to create the integration. We can also do custom integrations to "Private "applications.
Q: Can metadata be modified/written back to the files or the DAM from the CI HUB plugin?
A: YES, this function depends on the capabilities of the connected system.
Q: It seems like this app could encourage (or at least facilitate) a certain, um, lack of discipline around file naming conventions and organization. Is there a way to impose governance around those things?
A: We do think that CI HUB does the opposite. By providing direct access to assets and integrating them into the DAM, we can enforce the correct use of preapproved assets more conveniently.
Q: Do the connectors run locally on users' computers in the local apps, or is there a cloud component?
A: The CI HUB Connector runs where the application is. So if you are using Desktop applications like Adobe or MS 365, then the CI HUB Connector is local. If you are using Web Applications like Figma or Office 365 Web, it's in the Browser.
Q: I like to see a CI HUB for Unity Engine. It would be great for game developers
A: We also! We would love to be in much more systems, AND we will do anything to be there. In 2022 you can expect much more systems to be supported. Although we don't know if we will be ready for Unity, we promise to try!
Q: Can you limit which assets can be used if connecting to a DAM? Or will they have access to everything they can access in the DAM?
A: The CI HUB Connector expects all Limits set in the DAM. If the DAM supports the transparency of Rights via the API. As of today, all integrations do this.
Q: If assets are added via CI HUB, and then the ppt is sent to someone without a license (or a dam account), will all placed assets be maintained?
A: YES. There is no CI HUB Connector needed to use created Powerpoint etc.
Q: When an image is placed, is the link to the DAM maintained? So if another person with access then edits the file, can they still see the connection for each asset?
A: The CI HUB Connector supports linked assets whenever possible. But it requires that the program support this function. As of today, Microsoft products are not offering this option. But we hope that Microsoft is reintroducing it, as it worked in older API versions.
Q: In the CI HUB panel, can you find an asset and then click to see it in the DAM?
A: Yes, we do support "deep links "to the asset.
Q: If an asset has been expired or deleted from the DAM, will this be reflected in an office document it is placed in?
A: YES, the CI HUB Connector supports this, if the product does it. All programs except Microsoft support this function. But we hope that Microsoft is reintroducing it, as it worked in older API versions.
Q: Do you have an upcoming webinar showing CI HUB for Figma?
A: Yes absolutely. In our Academy, you already find excellent Videos for Figma and Sketch and all other things. We create new videos almost every week, so we hope you find everything that explains CI HUB: Tutorials – Academy – Youtube Chanel
Q: Do you have a demo video showing the connection used in Premiere Pro?
A: We create new videos almost every week, so we hope you find everything that explains CI HUB: : Tutorials – Academy – Youtube Chanel
Q: What is your youtube channel called, please?
A: The Channel is called CI HUB, and here is the link: Youtube Chanel
Q: What's the difference between Starter and Professional Edition? Is the Professional Edition an add-on to the Starter?
A: The only limit is the number of users in one domain. With the Starter edition, the limit is 3. There is no limit in the professional Edition.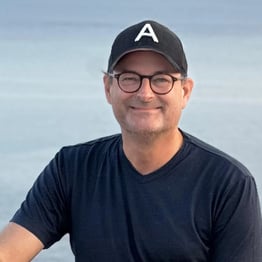 Article by
Andreas Michalski
CEO & Founder of CI HUBAs Managing Director and Head of Sales, Andreas Michalski sold the company iBrams GmbH & Co KG, which he founded, to the French company Wedia SA in 2017. The company developed a Marketing W2P solution for international companies such as Deutsche Bahn, Fresenius, BMW, Continental, Estee Lauder, and Apple.