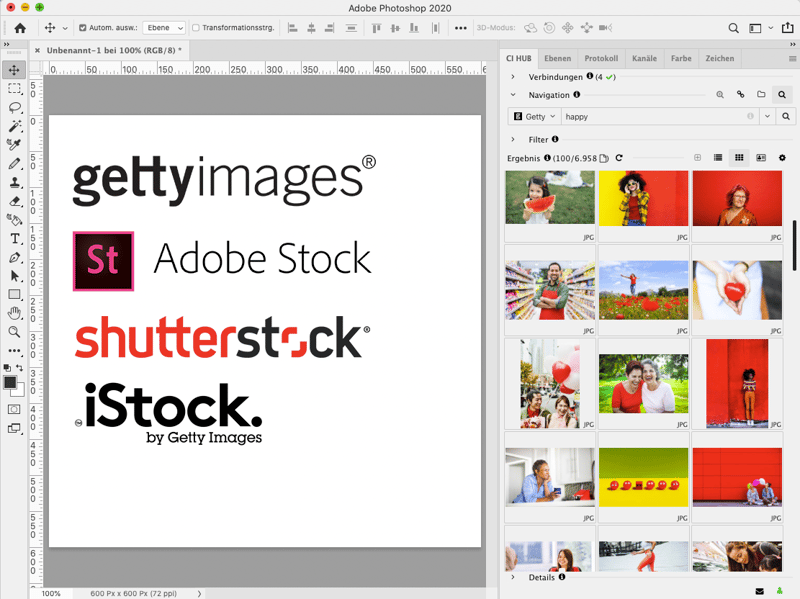 With our CI HUB Connector for Adobe CC and CI HUB Connector for Microsoft 365 the following stock image libraries are now available: Adobe Stock, GettyImages, istockphoto and Shutterstock. That means, you can access assets from those libraries directly out of your favourite Adobe CC and Microsoft 365 product via an unique user interface. That is what we call "Assets at your fingertips".
Just connect the stock library you are using to the CI HUB Connector and place the selected asset via the easy Drag & Drop function directly from the CI HUB Connector panel into the document you are working on. All that without leaving the Adobe or Microsoft tool you are working in. And the best thing: If you are used to working with stock image libraries in a web browser, you will immediately feel at home. You will not have to get used to a new user interface when switching from one stock image library to another.
Working with the connector panel offers you easy access to your collection boards and to your licensed stock media assets via a preconfigured filter. You can find your assets easily thanks to dynamic and innovative filters. They help you to trim down the search results until you found exactly what you were looking for.
Have fun using the CI HUB Connector for Adobe CC and for Microsoft 365 programs and experience how simplicity will empower you!