Discover the new way of creating presentations and learn how to become a PowerPoint PRO
Have you ever caught yourself searching for images available to fit into your PowerPoint presentations for endless hours, wasting your time and money? Ever felt stressed for not meeting a deadline exactly for this reason? Sounds familiar? If so, now is the time to explore a brand new version of the CI HUB Connector specifically designed for Microsoft users who are looking to take their presentations to the next level.

Introducing CI HUB Connector PRO for Microsoft PowerPoint
With the CI HUB Connector PRO for Microsoft PowerPoint, you can easily create, manage and update your PowerPoint presentations without wasting any of your valuable time. More specifically, you can now connect sources to your PowerPoint application at the same time, browse out-of-the-box in 60+ leading DAM, PIM, Cloud Storage, Stock Providers & Work-Management systems as well as stay in PowerPoint and focus only on the task at hand without having to switch apps for getting images. Files are too "big"? Speed up the flow of your presentation and minimize the file size. With the rendition feature, you can even place cover pages of Microsoft Word or Adobe InDesign documents as an image.
Are you a control freak? With the PRO version of the CI HUB Connector, you can now run a complete inventory and view the status of all placed elements and have Having full control over all placed elements stands for consistent and compliant use of your content at any time.
The benefits and the possibilities are endless. With the groundbreaking "Smart Linking" Feature, for example, Monitoring images and documents in a PowerPoint site has never been easier! No matter from which source system the digital assets have been placed.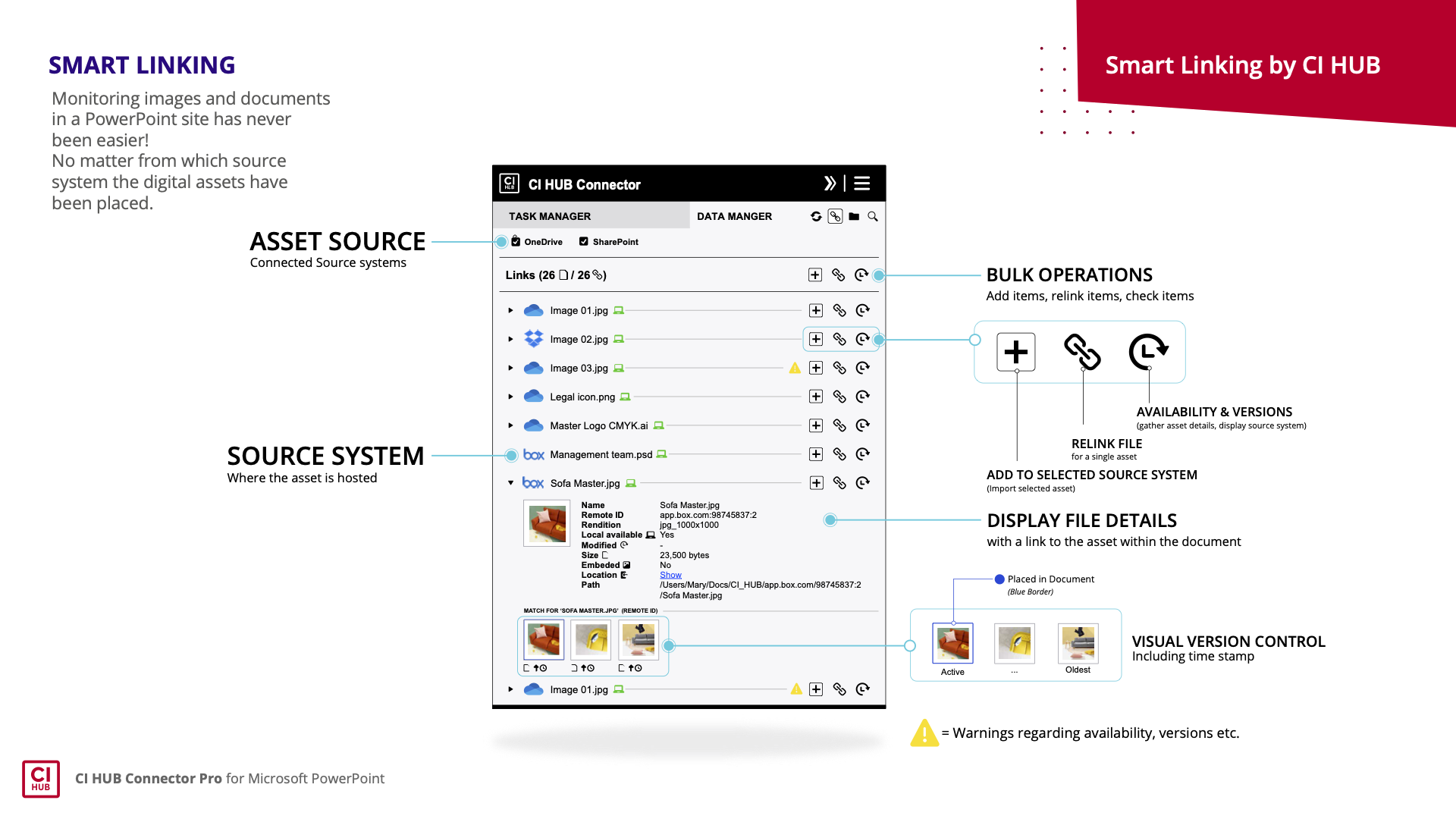 If you want to read more about the CI HUB Connector PRO in more detail, download our brochure so you can become a PRO and give more power to the point.
CI HUB: One access to your digital asset ecosystem.

The all-new CI HUB Connector PRO for Microsoft PowerPoint is optimized for all Windows Machines and installed in 30 seconds. The CI HUB Connector is fully compliant with even the strongest security and data protection regulations so you can have everything at your fingertips.
If you have any questions about the CI HUB Connector PRO or any feedback about our latest addition feel free to contact us. We love connecting with our customers.
Watch the Ultimate CI HUB Connector PRO for Microsoft PowerPoint Video Guide